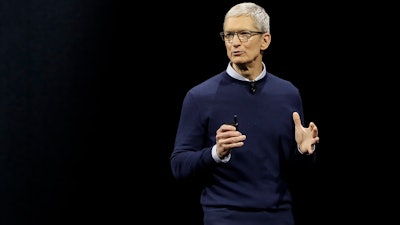 AP File
Apple CEO Tim Cook says he is standing by hundreds of Apple immigrant employees brought to the United States as children who have been shielded from deportation by a program President Donald Trump might eliminate.
Cook tweeted Sunday that "250 of my Apple co-workers are #Dreamers. I stand with them. They deserve our respect as equals and a solution rooted in American values."
The White House says Trump is expected to announce Tuesday whether he plans to eliminate former President Barack Obama's Deferred Action for Childhood Arrivals, which has allowed nearly 800,000 immigrants who were brought to the country illegally as kids to remain in the U.S. and legally work.
Cook and the CEOs of Facebook, Microsoft, Google and other companies have put pressure on Trump to keep the program.