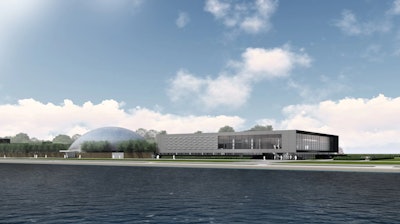 GM
WARREN, Mich. – GM Design studios is in the final stage of a 360,000-square-foot expansion that will take a multiyear, $1 billion investment in GM's Global Technical Center.
GM will break ground in mid-2018 on the new studio building, which will surround the iconic Design Dome Auditorium and viewing patio and connect to the existing Design Center.
A substantial two-to-three-year project, the new building's footprint first requires the completion of a new parking structure currently underway at the southwest corner of the campus.
GM previously announced a multiyear Technical Center campus investment that includes new construction, significant renovations of some existing facilities and the expansion of some operations. Construction began in May 2015.
Significant building renovations include:
Vehicle Engineering Center
Alternative Energy Center, including a new Structural Development Lab
Pre-Production Operations
Engineering West and South
Design and construction for GM's new Design studios is managed by Walbridge, in partnership with SmithGroup JJR, which received an honor award from the American Institute of Architects for its work on the interior renovation of the GM Design Dome and Auditorium in 2014.
Simcoe, the seventh Design leader in GM history, has been instrumental in the development and expansion of other GM global design studios. Now past its 90th year, GM Design was established in 1927 as The Art and Colour Section by the legendary Harley Earl.
The Tech Center campus opened in 1956 and was the pinnacle of engineering, design and advanced technology at the time. It was designed by world-renowned architect Eero Saarinen and landscape architect Thomas Church.
It was named a National Historic Landmark in 2014 by the Department of the Interior and the National Park Service. In 2000, the campus was listed on the National Register of Historic Places.
In 1986, the American Institute of Architects honored the Tech Center as the most outstanding architectural project of its era.