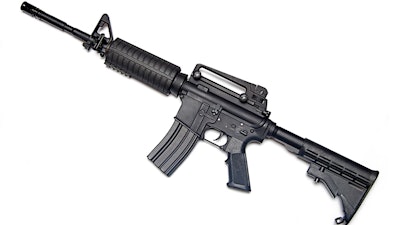 The U.S. Marine Corps has requested 50,000 additional M27 Infantry Automatic Rifles to replace the M4 carbine rifle currently utilized by its infantry. The new weapon was initially seen as a replacement for a squad weapon – the M249 SAW. However, this larger order indicates that the M27 could now be issued to more individual soldiers. Typically, there would be one SAW for each infantry or fire team consisting of six or fewer soldiers.
The request, which is yet to be approved, would be a significant order for the German-based weapons maker Heckler & Koch. Apparently, the M27 outclassed the M4 made by South Carolina-based FN Manufacturing in terms of reliability and on the number of rounds fired before the most common types of failures occurred.
The M27 uses a heavier, longer barrel than the M4 and is capable of fully automatic fire from 30-round magazines. It includes a bipod, foregrip and the Trijicon Squad Day Optic as standard equipment. It can't lay down as much suppressive fire as the belt-fed M249, but the Marine Corps believes that the weapon makes up for it with greater accuracy and being easier to carry.