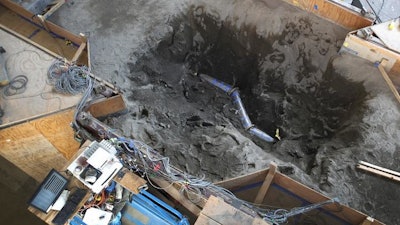 Robert Barker, Cornell University Photography
Using biological materials as flame retardants, defining the characteristics of soil liquefaction during earthquakes and collecting disaster data with aerial drones are among the 12 disaster resilience research projects awarded just over $6 million today by the U.S. Commerce Department's National Institute of Standards and Technology (NIST). The grants support NIST's efforts to strengthen the ability of communities to prepare for anticipated hazards, adapt to changing conditions, and withstand and recover rapidly from disruptions.
The 12 awards, selected from 172 proposals, are being made through NIST's Disaster Resilience Research Grants Program. Projects funded under the program must support research that will:
Help advance the principles of disaster resilience in the design of building and infrastructure systems; or
Facilitate the development of building codes and standards to reduce the impact caused by windstorms--primarily hurricanes and tornadoes--and coastal inundations, wildland fires and earthquakes; or
Lead to the development of innovative measurement methods and technologies to collect and evaluate building and infrastructure performance data in the wake of a hazard event.
Funded for up to three years each, the grant recipients are:
American University (Washington, D.C.) - $128,000
Biomacromolecules as Flame Retardants for Wood-Based Construction
For a study of the durability, weatherability and long-term effectiveness of flame retardants based on biomacromolecules (such as proteins, lignin, cellulose and other carbohydrates) when applied to building products such as lumber, pressed wood and wood-plastic composites.
Applied Research Associates Inc. (Raleigh, North Carolina) - $412,718
Development of Tornado Design Criteria for Buildings and Shelters Subject to Tornado Induced Loads
For the development of improved loading criteria (the forces that a structure and/or its components must be designed to withstand) for structures that must resist tornadoes, such as shelters and power generation facilities.
Clemson University (Clemson, South Carolina) - $300,807
Improving Disaster Resilience by Quantifying WUI Community Ember Exposure
For using wind tunnel test data to develop a method for measuring the firebrand (ember) exposure risk of homes in the wildland-urban interface (WUI), the area where residential communities and undeveloped wildlands meet.
Stanford University (Stanford, California) - $580,477
Seismic Assessment, Retrofit Strategies and Policy Implications for Vulnerable Existing Steel Buildings
For the development and application of a comprehensive method to assess the safety risks of earthquake-vulnerable tall steel buildings.
University of Alabama in Huntsville (Huntsville, Alabama) - $563,276
Development of Methodology for Determination of Ignition Propensity by Firebrands in Wildland-Urban Interface
For the development of a computer model that will define patterns for firebrand distribution during WUI fires and their likelihood of igniting nearby structures.
University of California, San Diego (San Diego, California) - $749,924
Improving Disaster Resilience Through Scientific Data Collection with UAV Swarms
For the development of a method by which a "swarm" of unmanned aerial vehicles (UAVs) can be used to collect field data on the health of structures and infrastructure lifelines (such as water, electrical and gas) before, during and after a natural disaster.
University of Colorado (Boulder, Colorado) - $400,461
Integrating Aging Effects in Performance-Based Seismic Design and Assessment of Reinforced Concrete Structures
For a study of the effects of aging on the mechanical properties of concrete and steel, and on the overall seismic performance of reinforced concrete.
University of Maryland (College Park, Maryland) - $377,213
Temperature Measurements of Airborne Firebrands
For the development of a single tool to measure characteristics of airborne firebrands to improve the fire resistance of communities in WUI areas.
University of Michigan (Ann Arbor, Michigan) - $684,987
Resilience of Steel Moment Frame Systems with Deep Slender Column Sections
For a study of the performance during seismic events of deep slender column sections within a steel special moment frame structure (where beams, columns and beam-column connections are designed to be more earthquake resilient).
University of Notre Dame (South Bend, Indiana) - $715,550
Coastal Inundation Events in Developed Regions
For the development and testing of methods to improve predictions of how inundations such as storm surges and tsunamis will impact developed regions.
University of Texas at San Antonio (San Antonio, Texas) - $798,892
Decision-Oriented Column Simulation Capabilities for Enhancing Disaster Resilience of Reinforced Concrete Buildings
For the development of a new generation of computer simulation models that will characterize the impact of severe earthquake conditions on reinforced concrete columns.
University of Washington (Seattle, Washington) - $347,479
Liquefaction-Targeted Ground Motion Parameters
For a study to better understand and define the characteristics of soil liquefaction (where a saturated or partially saturated soil loses strength and stiffness in response to earthquake shaking) to enable more accurate predictions of hazards to structures and infrastructure lifelines.