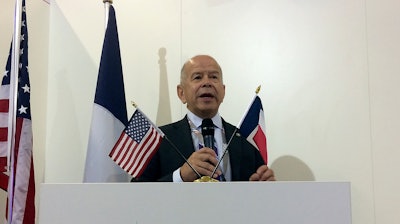 AP Photo/John Leicester
PARIS (AP) — The head of the U.S. Federal Aviation Administration says the boom in drone popularity is "a huge game changer" similar "to powered flight or jet engines."
In an Associated Press interview Tuesday, Michael Huerta said "the growth of this industry and how it's evolving is something that all of us in aviation need to pay a lot of attention to."
Huerta spoke on the sidelines of the Paris Air Show, where drones of all kinds were being displayed.
For the industry, their popularity begs a vital question: how do you make sure that swarms of new machines don't endanger each other, other users of the skies and people on the ground as they do everything from patrolling traffic blackspots to, possibly, delivering your burger and fries?