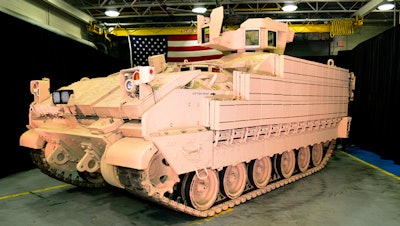 BAE Systems
BAE Systems yesterday rolled out the first prototype Armored Multi-Purpose Vehicle (AMPV) to the U.S. Army during a ceremony at the company's York, Pennsylvania facility.
According to the company, the AMPV provides the Army with enhanced mobility, survivability, force protection, and combat superiority.
The AMPV is a fully modern, highly flexible vehicle that includes five variants and is designed to replace the Vietnam War-era M113 family of vehicles.
It leverages Bradley Infantry Fighting Vehicle and M109A7 Self-Propelled Howitzer designs. It meets the Army's force protection and all-terrain mobility requirements that enable the AMPV to maneuver with the rest of the Armored Brigade Combat Team (ABCT). Maximizing commonality within the ABCT reduces developmental risk and provides cost savings to the Army.
In December 2014, BAE Systems was awarded a contract worth up to $1.2 billion from the Army for the Engineering, Manufacturing, and Development (EMD) and Low-Rate Initial Production (LRIP) phases of the AMPV program.
The initial award of $383 million, under the EMD phase, is for development and production of 29 vehicles across all of the variants: general purpose, mission command, mortar carrier, medical evacuation, and medical treatment.
Yesterday's ceremony commemorated the rollout of the first of the general purpose variant.
Deliveries of the prototype vehicles will continue into 2017, and developmental testing will run through 2018.
This week, BAE was also awarded a five-year U.S. Navy contract worth up to $368 million to provide systems engineering and support services to the Navy's Strategic Systems Programs (SSP) office.