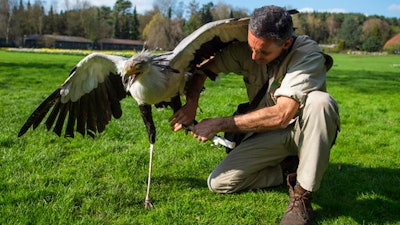 Philipp Schulze/dpa via AP
BERLIN (AP) — Soeckchen the secretary bird is now strutting around her home in northern Germany with an artificial leg produced using a 3D printer.
Keepers at the Weltvogelpark bird park in Walsrode found two-year-old Soeckchen (Little Socks) in her aviary with a broken left leg. Her lower leg had to be amputated.
Zookeepers turned to Lars Thalmann of e-Nable, which makes free prosthetic hands for children. The dpa news agency says it was the first time the organization had made a prosthesis for an animal.
Park spokeswoman Janina Buse says it took two attempts to get it right. A first prosthesis, which mimicked the leg's form, turned out too heavy.
Buse says Thalmann built a second leg without talons — "it looks much simpler, but the bird is managing brilliantly with it."