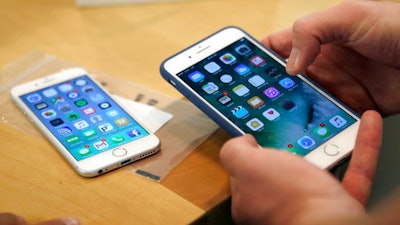 AP Photo
LONDON (AP) — Shares in chipmaker Imagination Technologies have plunged 66 percent after announcing that Apple plans to stop using its products.
The U.K.-based multimedia, processor and communications technology company says Apple "will no longer use the group's intellectual property in its new products" within two years. That would mean the company wouldn't be eligible for royalty payments under existing agreements.
Imagination says Apple has for years used the company's technology in the graphics processor units of its phones, tablets and watches but has asserted that it is working on a "separate, independent" design to control its products.
Imagination says "it would be extremely challenging to design a brand new GPU architecture from basics without infringing its intellectual property rights, accordingly Imagination does not accept Apple's assertions."