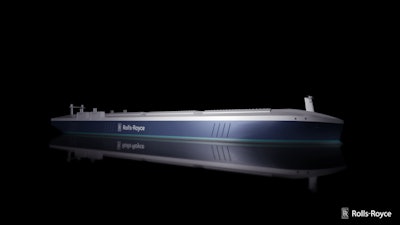 Rolls-Royce
Yesterday, Rolls-Royce announced three new partnerships as the company pushes forward the development of autonomous container ships.
Rolls-Royce signed a Memorandum of Understanding (MOU) with MacGregor, a part of Cargotec, to collaborate on R&D to explore the impact of developments in autonomy for cargo ship navigation and cargo handling systems on-board container ships.
This collaboration will harness both companies' experience laying the groundwork for the development of autonomous container ships.
In a statement, Pasi Lehtonen, senior vice president of strategy, business development and marketing at MacGregor said, "In the segments where we operate, we see a lot of unnecessary waste in the forms of inefficiency, damage to cargo, and continuously dangerous working conditions. Our aim is to minimize this waste from the value network and this collaboration on autonomy for container ships is a good example of where industry leaders work together to transform the industry."
Rolls-Royce also signed an MOU with the Technology Center for Offshore and Marine, Singapore (TCOMS) to develop smart ship technologies.
Rolls-Royce and TCOMS will work on research to develop fundamental technologies, such as smart sensing, digital twinning and integrated modelling, which are essential to the development of future marine-data-based solutions. These developments will be applied to technology demonstrators to show how they can be used by specific ship types.
According to Kevin Daffey, Rolls-Royce director of engineering and technology, the partnership allows Rolls-Royce to to leverage the research capabilities in Singapore. "By developing demonstrator technology around sensors, data analytics and the Marine Internet of Things we will see ships become more reliable, more efficient and more closely integrated into global supply chains generating cost savings and improving revenue generation," he said.
TCOMS is also building a next generation Deepwater Ocean Basin equipped with state-of-the art wave and current generation systems that could simulate harsh ocean environments, including those in ultra-deep waters.
Scheduled for completion in 2019, the ocean basin facility will facilitate the development of innovative concepts including intelligent floating platforms and ships, autonomous systems, marine robotics and subsea systems.
The third partnership was formed with Tampere University of Technology in Finland, which will help develop and test the technology to support systems necessary for autonomous navigation and enable the first generation of autonomous ships.
The partners will work towards developing and validating technologies using the University's purpose built autonomous ship simulator.
Tampere University of Technology has extensive research expertise in intelligent machines and networked systems. The University's research into autonomous systems looks at how huge quantities of data can be analyzed, processed, and transferred, signal processing and human machine interaction.
The University already has extensive experience of researching autonomous control systems in other industries most notably the mining and automotive sectors. It has worked with Rolls-Royce on autonomous and remote-controlled ships since 2015.
According to Karno Tenovuo, Rolls-Royce senior vice president of ship intelligence, a remote-controlled ship will be in commercial use by the end of the decade.