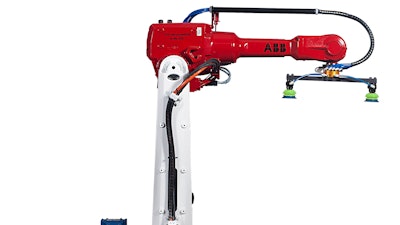 ABB
Last week, ABB sold its first robot manufactured in the United States.
The IRB 2600 robot is the first to be produced at the ABB Auburn Hills, Michigan facility, and was sold by ABB Value Provider, CIM Systems to Hitachi Powdered Metals USA.
The compact robot, which is painted with special commemorative red, white and blue paint, will be used for material handling of in-process engine component parts at the Hitachi Greensburg, Indiana facility. It is the 180th ABB robot at the Hitachi plant, which installed its first ABB robot in 2005.
In May 2015, ABB announced that it would begin producing robots at its Auburn Hills facility, making it the first of the major industrial robot companies to fully commit to an American manufacturing footprint.
The delivery of the first US manufactured robot is consistent with the production schedule announced at the factory opening.
In addition to the IRB 2600, the company will begin manufacturing other popular robot models in Auburn Hills this year.
By 2018 it is planned that 75% of all the models delivered to North American end-users will be manufactured in the United States.
Previously, ABB robots sold in the Americas were made in Sweden and in China.
The company recently opened a new Packaging Application Center in Bloomfield, Connecticut, and an Assembly and Test Application Center in San Jose, California.
Several years ago, ABB opened a Handling and Machining Application Center in Houston, Texas.