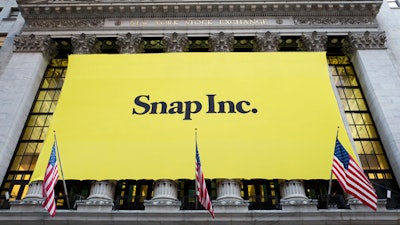 AP Photo/Mark Lennihan
SAN FRANCISCO (AP) — A private Catholic high school in California's Silicon Valley that made $24 million from an initial public offering of shares in Snap Inc. will use the windfall for financial aid, professional development, teacher training and funding of school programs, the school's president said Friday.
The board of the high school in Mountain View agreed to invest $15,000 in seed money in Snap in 2012 based on a recommendation of a venture capitalist who is also a parent of a student.
That's when the company was just getting started. Snap is the company behind the Snapchat photo and video messaging application.
The school held onto the investment until this week, when Snap shares sold for $17 each in an IPO. St. Francis sold 1.4 million shares at that price generating a gain of about $24 million.
The stock has since soared to about $29 as of Friday morning, making the remaining 600,000 shares that the school owns worth roughly $17 million.
"I think everyone understands it's a pretty transformational event for our school," Chiu said in an interview.
None of the school's nearly 1,800 students were involved in the investment venture, he said.