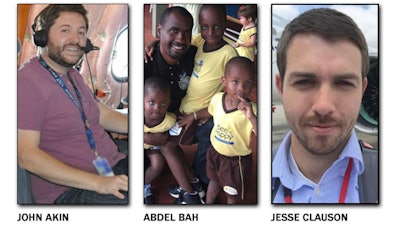 Pratt & Whitney
"I apologize, it might be hard for me to hear," Abdel Bah warned. The Pratt & Whitney software engineer was squeezing a phone call into a day of testing at airframer Embraer's headquarters in Brazil. "We're in the middle of an artificial ice test, and the plane just landed on the runway."
Simulating extreme cold and icy conditions is one of many tests flight test engineers such as Bah perform to ensure each engine is true to Pratt & Whitney's motto – dependable. While there's no such thing as a "typical" day on the job, these engineers know to expect a schedule of grueling tests that transport them to all corners of the globe.
A test at high altitude might send them to Bolivia, while a test in sweltering heat might take them to the United Arab Emirates. To simulate frigid temperatures, a flight to Finland or an indoor Florida facility may be in store. An acoustics test in Seville, Spain, even requires aircraft to skim over fields of microphones.
But engine tests are often far from seamless. At times, the challenges they present appear impossible to solve. Controls system engineer Jesse Clauson remembers a time when he was told the problem before him was just that – impossible.
"My team and I were doing a low-speed motor test where we had to slow the engine down while synchronizing other engine components," he said. "A respected engineer told us we would never get it to work. But in his words, it behaves quite nicely now, and now that PW1100G engine is in service."
While unpredictability, long days, grueling conditions and high-pressure situations are all part of life as a flight test engineer, high stakes are coupled with high rewards.
For software engineer John Akin, that reward comes with the inaugural flight and the aircraft certification that follows. He fondly remembers the first flight of the A320neo in September 2014, the first of his career.
"The feeling actually didn't hit me until the plane landed, because while it was happening, we were in the control room just focused on our tasks," Akin said, describing the intensity he and his team felt in that moment. "But when I watched the YouTube video afterward, it made me want to cry."
Akin is not the only one who has experienced similar situations of intense pressure. Bah has sifted through thousands of lines of code, knowing if he can't manipulate the software, there may not be any one who can – our customers are depending on his solution for its success. But just like Akin, the elated feeling that follows Bah's anxiety-inducing moments is like no other.
"Every time you get to the bottom of an issue," he said, "it's like scoring a touchdown in the big game."