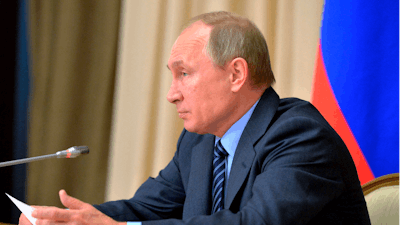 Alexei Druzhinin/Sputnik, Kremlin Pool Photo via AP
MOSCOW (AP) — Russia is working to develop new weapons to ensure a global strategic balance, President Vladimir Putin said Friday.
Putin, speaking to top military leaders at his residence in the Black Sea resort of Sochi, said that Russia, like other nations, is working on state-of-the art arms technologies, including laser, hypersonic and robotic weapons.
Special attention is given to the development of so-called weapons on new physical principles that allow selective, pinpoint impact on critically important elements of the enemy weapons and infrastructure facilities," Putin said at a meeting, which wrapped up a week-long series of consultations on military modernization and arms industries.
He didn't mention specific weapons programs, but military officials have said Russia is developing new warheads for its ballistic missiles, which would be capable of making sharp maneuvers on their way to the target to dodge enemy defenses. The military also has been working on air-based laser weapons.
The Kremlin continued a sweeping military modernization drive even as Russia's economy entered a recession.
"We will do all necessary to ensure a strategic balance," Putin said. "We believe that attempts to upset it are extremely dangerous. The strategic balance, which took shape in the late 1940s and the 1950s, has allowed the world to avoid large-scale military conflicts."
Russia's relations with the United States and its allies have plunged to their lowest point since Cold War times amid the Ukrainian crisis and tensions over Syria.
Without naming the United States, Putin vowed to fend off threats posed by NATO's U.S.-led missile defense system and the U.S. efforts to develop Prompt Global Strike — prospective weapons systems that would be capable of delivering a precision strike anywhere in the world within one hour.
"Our task is to efficiently neutralize any military threats to Russia, including those connected to the strategic missile defense, the implementation of the global strike concept and information wars," Putin said.