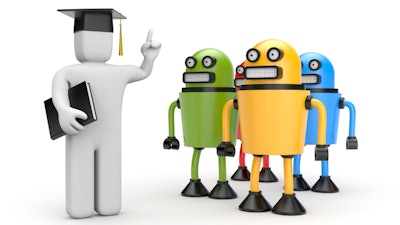 Many 2016 high school graduates are interested in STEM (science, technology, engineering and math) majors and careers, but few of those students are well prepared to succeed in first-year college STEM courses. These findings come from the latest edition of ACT's annual STEM report, The Condition of STEM 2016.
While around half (48 percent) of the nearly 2.1 million 2016 U.S. high school graduates who took the ACT test had an interest in STEM majors or careers, only 26 percent of those graduates met or surpassed the ACT College Readiness Benchmark in STEM. The benchmark is an indicator of whether a student is well prepared for first-year courses such as calculus, biology, chemistry and physics, which are typically required for a college STEM-related major. These findings are virtually unchanged from last year.
"Our data continue to show a big disconnect between students' interests and their actual preparation," said Marten Roorda, ACT chief executive officer. "While the level of interest we are seeing in important STEM majors and careers is encouraging, the lack of readiness for STEM college coursework remains troubling."
Among underserved learners—those who tend to have a lack of access to high-quality educational and career planning opportunities and resources—interest in STEM majors and careers was similarly high, but readiness for STEM coursework was substantially lower than overall. This is particularly true for students with more than one of the three defining underserved characteristics (racial/ethnic minority, low-income, and first generation in college).
The findings indicate interest in teaching STEM subject areas continues to be alarmingly low among high school graduates. Fewer than one percent of the nearly 2.1 million 2016 graduates who took the ACT indicated an interest in teaching math or science. The U.S. Department of Education lists both math and science as current high–need fields where teacher shortages exist in many states.
The report notes that average ACT science scores have gone up among students meeting the ACT STEM benchmark over the past four years, while average ACT math scores have stayed flat over the same period.
The ACT College Readiness Benchmark in STEM is based on the ACT STEM score, which represents students' combined performance on the ACT math and science tests. Students who meet or surpass the ACT STEM benchmark score of 26 have about a 75 percent probability of earning a grade of C or higher in first-year college STEM courses and are more likely to earn good grades, persist in a college STEM major and earn a STEM-related bachelor's degree than those who didn't meet the benchmark.