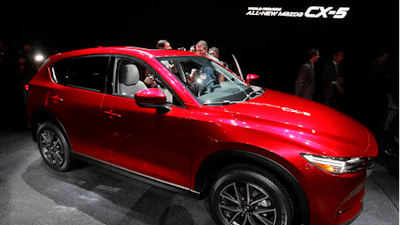 AP Photo/Chris Carlson
America's shift from cars to SUVs is starting to look permanent, and automakers are scrambling to meet the demand.
Toyota, Ford, Subaru, Jeep and Volkswagen are all showing new SUVs at this week's Los Angeles Auto Show. Even traditional luxury car makers like Jaguar and Alfa Romeo are debuting SUVs at the show, which opens to the public on Friday.
Americans bought more SUVs than four-door cars for the first time last year, and the momentum is growing, according to registration data from IHS Markit. In the first nine months of this year, SUVs made up 39.5 percent of new-vehicle registrations; cars stood at 32 percent.
Unlike the previous SUV boom in the early 2000s — which fell victim to rising gas prices — this one is likely to stay. That's because automakers are offering more small SUVs with better fuel economy. The country's top-selling sedan, the Toyota Camry, gets 28 miles per gallon in combined city and highway driving. The top-selling small SUV, the Honda CR-V, gets 29 mpg.
"There's no reason to not buy an SUV," says Rebecca Lindland, a senior analyst with Kelley Blue Book. "I can't imagine a lot of scenarios where this trend is going to change."
Here's what's appearing at the L.A. Auto Show:
— ALFA ROMEO STELVIO: Named for a mountain pass in Italy that's known for its hairpin turns, the midsize Stelvio has Alfa's distinctive triangular grille and curvy styling. Under the hood is a 280-horsepower, 2.0-liter four-cylinder engine paired to an eight-speed transmission. Buyers can also opt for the top-of-the-line Stelvio Quadrifoglio, which has a 2.9-liter V6 that produces 505 horsepower. All-wheel-drive is standard on all models. The Stelvio, which will be made in Italy, goes on sale early next year. Pricing wasn't released.
— FORD ECOSPORT: Ford's smallest SUV, which has been sold in other markets since 2003, will finally go on sale in North America in 2018. It will compete with other tiny newcomers like the Chevrolet Trax and Honda HR-V. To target young buyers, the EcoSport offers ten exterior colors, seven interior lighting options and optional Apple CarPlay and Android Auto. It comes with either a 1.0-liter, three-cylinder turbocharged engine or a 2.0-liter four-cylinder with four-wheel-drive. Pricing wasn't released, but the EcoSport will be less expensive than the Ford Escape, which starts at $23,600. The EcoSport will be made in India.
— JAGUAR I-PACE CONCEPT: Jaguar is taking aim at Tesla Motors with an electric SUV that is due out in 2018. The five-seat I-PACE is a compact SUV, slightly smaller than the brand's gas-powered F-Pace and Tesla's Model X. It can go an estimated 220 miles on a charge and has electric motors on the front and rear axles that deliver 400 horsepower and zoom from 0 to 60 mph in 4 seconds. Pricing wasn't released.
— JEEP COMPASS: The new Jeep Compass small SUV replaces both the aging Patriot and the previous Compass in Jeep's showroom. Jeep unveiled the new global Compass in Brazil in September, and it looks like a smaller version of the Grand Cherokee. But other details of the U.S. version have been kept under wraps. The Compass is scheduled to go on sale in the U.S. in March.
— MAZDA: Mazda has redesigned its CX-5 midsize SUV, which goes on sale in Japan in February and the U.S. after that. It has a new grille with narrowed headlights and cleaner, less chiseled sides. Mazda says the driving dynamics have improved and the interior is more comfortable. The engine choices — 2.0-liter or 2.5-liter gas engines — remain the same. Pricing wasn't released, but the current CX-5 starts at $21,795.
— MINI COUNTRYMAN: The second-generation Countryman small crossover is the biggest Mini ever. It's 8 inches longer than the outgoing model, with 30 percent more cargo space. Buyers can choose a 134-horsepower, three-cylinder engine or a 189-horsepower four-cylinder; automatic and manual transmissions are available. The Mini Countryman goes on sale in March; a plug-in hybrid version follows in June. Pricing wasn't released, but the current Countryman starts at $22,750.
— SUBARU VIZIV7 CONCEPT: Subaru plans to start selling a three-row SUV in early 2018. It will be the brand's largest vehicle yet. Like other Subarus, the VIZIV7 concept has standard all-wheel-drive and a boxer engine. The company says more details will come next year.
— TOYOTA C-HR: Toyota is also joining the subcompact SUV market with the C-HR, which stands for "Coupe-High Rider." The C-HR, which is already on sale in Europe, has bold, angular styling and a floating roofline that will spice up Toyota's conservative showroom. Europe has a hybrid version, but Toyota hasn't yet said which engines will be offered in the U.S. The C-HR goes on sale in the spring. Pricing wasn't released, but it will slot below the RAV4 SUV, which starts at $24,910.
— VOLKSWAGEN ATLAS: Volkswagen's first three-row SUV fills a big hole in its product lineup. The seven-passenger Atlas, which will go on sale in the spring, comes with two engine choices — a 238-horsepower 2.0-liter four-cylinder or a 280-horsepower, 3.6-liter V6. Both are paired to an eight-speed transmission. All-wheel-drive is available, and Volkswagen says safety features like automatic emergency braking, forward collision warning and lane departure warning will be affordable options. Pricing wasn't released. The Atlas will be built in Tennessee.