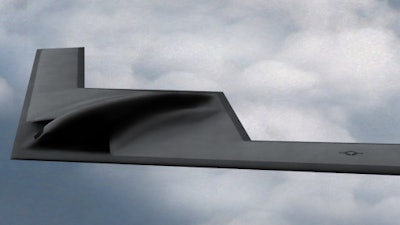 Northrop Grumman
The Secretary of the Air Force, the honorable Deborah Lee James, announced the name of the B-21 bomber today, the Raider, during her state of the Air Force address at the Air Force Association's national conference.
Northrop Grumman serves as the prime contractor for the B-21 Raider, leading a world-class industry team to design, build and deliver an advanced long-range strike system, capable of striking any target worldwide.
"The B-21's name embodies the legacy and power projection of the Air Force's long range strike capability. We are proud to partner with the Air Force to deliver a system that is so vital to our national security," said Tom Vice, corporate vice president and president, Northrop Grumman Aerospace Systems. "As the only company to ever design, build, deliver and modernize a long-range stealth system, we are committed to delivering the fleet of bombers for the 21st century."
Northrop Grumman and its seven primary industry teammates continue to work with the Air Force to deliver the B-21 Raider to enter operations in the 2020s.
Northrop Grumman's B-21 Raider industry team includes BAE Systems, GKN Aerospace, Janicki Industries, Orbital ATK, Pratt & Whitney, Rockwell Collins, and Spirit AeroSystems.
Learn more about the B-21 Raider at www.B21Raider.com.