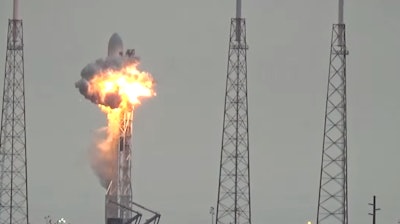 Scott Manley, YouTube
CAPE CANAVERAL, Fla. (AP) — SpaceX's chief executive says last week's launch pad accident is the "most difficult and complex failure" in the company's 14-year history.
After a week of public silence, SpaceX founder Elon Musk said via Twitter that the company is still investigating the accident. He's calling it a Falcon fireball, versus an explosion.
A massive fireball erupted during a prelaunch test Sept. 1 at Cape Canaveral, Florida. The Falcon rocket and a satellite were destroyed, and the pad was damaged.
Particularly puzzling, according to Musk, is "the quieter bang" heard right before the fireball. He says it may have come from the rocket or something else. The rocket engines had yet to fire as part of the test, and so there was no apparent heat source.