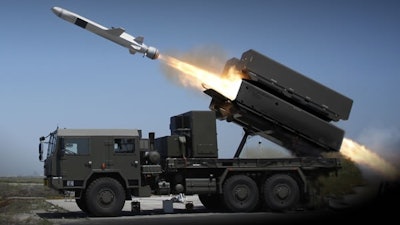 Kongsberg
Raytheon has received an initial contract to produce Naval Strike Missile (NSM) launchers at its production facility in Louisville, KY.
The deal ushers in U.S. manufacturing of the Norwegian-developed weapon system.
Kongsberg Defence Systems awarded the initial contract for qualification units. The award follows a July announcement that Raytheon will produce NSM launchers in the U.S.
The company also plans to perform final assembly, integration and test of the Naval Strike Missile at Raytheon's Tucson, Arizona facility.
Raytheon already produces Close-in Weapon Systems including Phalanx, SeaRAM, and Rolling Airframe Missile launchers in Louisville.
With a range of more than 100 nautical miles, NSM is a long-range, anti-ship missile that provides superior strike capability against land and sea targets.
Raytheon and Kongsberg believe NSM is an ideal solution for navies around the globe and the best over-the-horizon missile for the U.S. Navy's Littoral Combat Ship.
The companies are also teamed on the development of the Joint Strike Missile and National Advanced Surface-to-Air Missile Systems also known as NASAMS.
NSM features an advanced Imaging Infrared Seeker with autonomous target recognition; and has high survivability against modern and future air defense systems. It can fly at extremely low sea-skimming altitude, and has terrain-following flight capability.