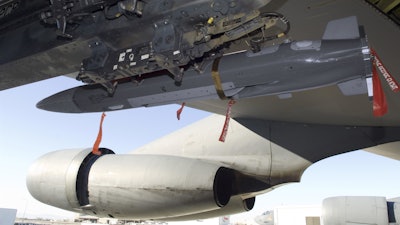 Raytheon
Raytheon has received a $96.1 million contract to produce 250 Miniature Air-Launched Decoys, or MALD missiles.
The U.S. Air Force award occurred just prior to Raytheon marking its 2,000th MALD system delivery, and 10th year of on-time customer deliveries.
The MALD-J decoy is the jammer variant of the basic decoy, and the first ever stand-in jammer to enter production. 
The MALD system is an air-launched missile with both decoy and jamming capabilities that can electronically stimulate and then neutralize enemy air defense systems. Raytheon produces the MALD-J jamming variant, and is also developing a system for the U.S. Navy. 
"MALD gives fighter pilots control of the skies, so they can stay out of harm's way," said Mike Jarrett, Raytheon Air Warfare Systems vice president. 
The Air Force has completed aircraft integration and the Navy is planning to integrate the missile onto their fleet aircraft.