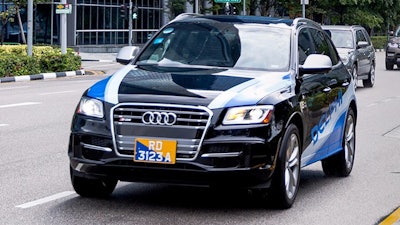 DETROIT (AP) — Auto electronics supplier Delphi Corp. will start testing self-driving vehicles in Singapore next year with a goal of putting them into public use in 2022.
Testing will be limited to six vehicles with human backup drivers inside One North, a large mixed-use residential and industrial park on the west side of the island city-state. Delphi says the test will include on-demand transportation of people and goods and will be linked electronically to the area's infrastructure.
Delphi was picked for the tests by the Singapore Land Transport Authority. The project will be announced Monday in Singapore.
Two other test sites in the U.S. and Europe will be revealed later. By 2022, Delphi hopes to have autonomous pods hauling goods and people without pedals, steering wheels or human backup drivers.