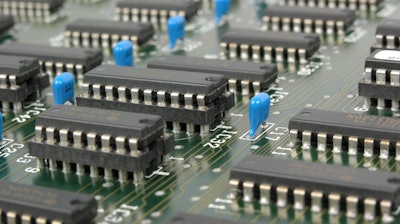 Magnascan
An Indiana University expert in the high-tech field of computer vision will collaborate with U.S. Navy engineers to improve the quality of microelectronic components used in critical military systems like communication and navigation.
David Crandall, a professor in the IU School of Informatics and Computing, has received $450,000 from the Naval Engineering Education Consortium to conduct research in collaboration with the Crane, Ind.-based Naval Surface Warfare Center Crane Division on new methods to guarantee the integrity of the electronic circuitry used in U.S. Navy platforms.
The Naval Engineering Education Consortium is a part of the Naval Sea Systems Command, which supports project-based collaborations with colleges and universities.
"The Navy depends on a lot of critical electronic circuits in its equipment, so spotting defects before something goes wrong is of utmost importance, especially when lives are on the line," Crandall said. "Our project will apply the principles of computer vision to improve the inspection of these technologies, which currently require quality control conducted by people painstakingly examining circuits underneath microscopes."
Computer vision uses machine learning to "train" machines in the creation of algorithms that recognize patterns like faces, scenes and actions. The technology is familiar, as the same basic methods power Google's image search or the motion sensors in Microsoft's Xbox Kinect.
The IU-NSWC Crane project will work to apply this pattern-recognition power to spotting microscopic flaws in electronic circuits and semiconductors.
"Today's military employs devices with immensely complicated integrated circuits whose logic gates are less than 25 nanometers wide and feature upwards of 20 billion individual transistors," said Robert Templeman, lead engineer on the project at NSWC Crane and a graduate of the IU School of Informatics and Computing. "What once could be inspected by the naked eye, and later optical magnification, now requires state-of-the-art instruments that create images from sophisticated imaging technology, challenging the limits of human inspection."
The IU-NSWC Crane collaboration will take place in three phrases. The first year will investigate the project's primary challenges and explore solutions. The second two years will be "operation periods" that "expand the scope and ambition of the previous year's goals," Crandall said.
These later phases will produce statistical models that describe the defining structures of microelectronic imagery, algorithms that efficiently compare these features against large-scale images of circuits requiring inspection, and machine learning techniques that automatically detect and characterize any defective microelectronic structures.
Throughout the process, IU scientists will submit reports and white papers to military personnel as well as provide access to the project's source code. The work is also expected to generate new academic knowledge through scientific conference presentations and journal articles.
In addition, Crandall said the IU-NSWC Crane collaboration will provide a number of IU students -- from the undergraduate to the Ph.D. level -- the opportunity to work closely with engineers at NSWC Crane, 25 miles southwest of IU Bloomington. Cultivating a world-class naval engineering workforce through student participation in research is a major part of the mission of the consortium funding the project.
"Machine learning, computer vision and data mining are hot topics right now, and there's a shortage of qualified graduates entering the job market," Crandall said. "This collaboration is a great opportunity for our students, not only to help create important new technology but also to gain the cutting-edge skills they will need to stay competitive as they launch their careers."