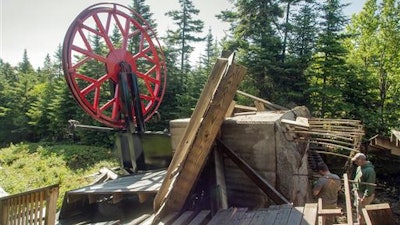 Nick Lambert/Sunday River via AP
PORTLAND, Maine (AP) — Maine has recorded its third major ski resort chairlift failure in six years, but this time no one was hurt because it happened in the summer when the lift was not in operation.
The top unloading terminal of Sunday River's Spruce Peak Triple lift separated from the ground and toppled over, causing the cable and chairs to drop.
Spokeswoman Darcy Lambert says a resort worker noticed it Sunday evening and engineers are on the scene to determine what happened. No decision has been made on whether to repair or replace the 30-year-old lift.
The incident follows a pair of chairlift failures at Sugarloaf. In 2015 a lift rolled backward, and in 2010 some chairs dropped. About 15 were hurt in those two incidents.