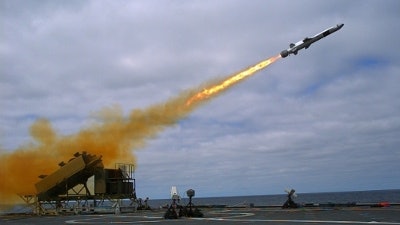 Raytheon
Raytheon and Norway's Kongsberg Defence Systems are finalizing plans to assemble, integrate, and test the Naval Strike Missile in the United States. The two companies also plan to produce NSM launchers in the U.S.
"NSM production in America is the latest evolution of our decades-long relationship with Kongsberg," said Dr. Taylor W. Lawrence, Raytheon Missile Systems president. "We will assemble the missile and launchers in the same Raytheon factories where we produce many of the world's most advanced missiles and other weapons systems."
Raytheon expects to perform final assembly, integration and test of NSM at the company's Tucson, Arizona facility. Launchers would be manufactured at Raytheon's factory in Louisville, Kentucky.
With a range of more than 100 nautical miles, NSM is a long-range, anti-ship missile that provides superior strike capability against land and sea targets. Raytheon and Kongsberg believe NSM is an ideal solution for navies around the globe and the best over-the-horizon missile for the U.S. Navy's Littoral Combat Ship.
"Warfighters around the globe will benefit from the Kongsberg-Raytheon partnership on NSM," said Harald Ånnestad, President Kongsberg Defence Systems. "Production of NSM in the United States will secure ramp up and sustainability of NSM, the world's only Fifth Generation Naval Strike Missile with Land Target capabilities, for the US and our allies. Increased volume of NSM creates and secures jobs in both the US and Norway."
The companies are also teamed on the development of the Joint Strike Missile and National Advanced Surface-to-Air Missile Systems also known as NASAMS.