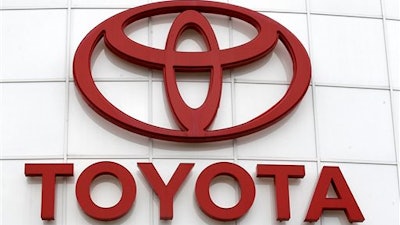 BLUE SPRINGS, Miss. (AP) — Toyota has been bringing small groups of teachers to the plant in Blue Springs for tours throughout the summer as part of a pilot program that will lead to student tours sometime in the upcoming school year.
Those tours will be for selected groups of eighth graders from schools throughout Northeast Mississippi.
A group of New Albany teachers toured the plant Thursday morning.
One of the goals of the teacher tours is to collect feedback.
Kathryn Ragsdale, external communications officer for Toyota Mississippi, said suggestions and comments from teachers will be used to improve or tweak the tour before bringing in students.
The tour begins with a brief history of Toyota and an introductory video. Then, after suiting up in personal protective equipment, teachers hit the plant floor in golf carts to see how a Corolla is made.
The tour winds through each step of the production process from beginning to end.
Surrounded by fast-moving workers, high-tech robots and half-built cars floating overhead on conveyor belts, teachers witnessed firsthand the technology and skill the plant workers use on a daily basis.
"We want them to see that the Toyota plant and manufacturing is a really great option for a career," Ragsdale said. "We're trying to develop our workforce, and when you get to see the inside of the plant you see the technology and see that everyone is wearing a polo shirt and khakis. It's not exactly what you might have in mind."
Ragsdale said she hopes that through the teachers who visit the plant, and eventually student visitors, Toyota can change the traditional perception of manufacturing as an undesirable job.
The perception that success only comes from obtaining a four-year degree, Ragsdale said, keeps young people from getting good-paying manufacturing jobs.
"That's really not the case," Ragsdale said.
Teachers also have the opportunity to learn more about several of Toyota's education partnerships, like the Automated Manufacturing Technology program that allows students to work, train and attend school while earning money, and eventually, a job with Toyota Mississippi.
Damon Ladner, principal at New Albany Middle School, plans to bring three groups of his teachers to the plant for tours by the end of summer.
Ladner said he and his teachers will now be more equipped to talk to students about their career options if they show an interest in manufacturing or engineering.
"That was a big part of coming, to learn more about it," Ladner said. "Everybody passes the big white building on Highway 78 but you don't really know what they do here. You don't see how diverse and technical it truly is."
Any group of teachers interested in taking a tour of the plant should contact the CREATE Foundation, which is currently helping coordinate the scheduling.