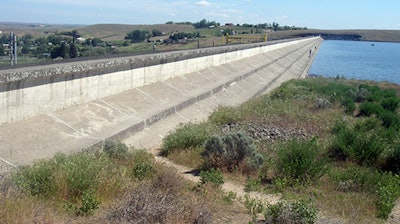 U.S. Fish & Wildlife
PENDLETON, Oregon (AP) — An eastern Oregon engineer says he's interested in producing hydro power at McKay Dam.
Bill Hampton submitted paperwork this month for permission to install a small generator and powerhouse at the dam near Pendleton, the East Oregonian reported.
The Federal Energy Regulatory Commission is studying the project to determine if it is environmentally and economically feasible. It could take several years to complete the permitting process.
Hampton says the McKay is one of many irrigation dams not being used to its full potential. McKay Dam has never been used for electricity, even though multiple people have looked into it over the years.
The dam has a capacity to hold more than 65,000 acre-feet of water and serves around 70 water users downstream. One acre-foot of water is about enough to serve two average households for a year.
"The water is going through the dam anyway," Hampton said. "Instead of having the water run through a valve, you have it run through a turbine. ... It has minimal impacts on the environment."
Boris Belchoff, Umatilla Field Office manager for the U.S. Bureau of Reclamation, says installing hydro power at McKay is tricky because water levels tend to drop after the irrigation season ends.
Furthermore, Robert Ross — an engineer with the agency based in Boise — says the project cannot interfere with existing irrigation water rights.
"Whatever they do, the public is not going to see a difference in the outflow of the dam," Ross said.
Hampton countered that his project would operate only from April to October, when water releases are still high enough to produce electricity.
"It's not a huge project, but it's a nice little development that could make the world a better place," he said.