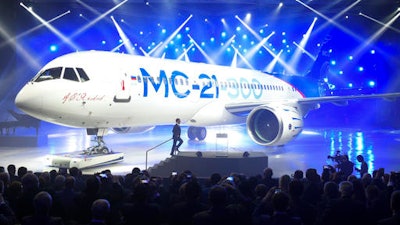 Alexander Astafyev/Sputnik, Government Press Service Pool Photo via AP
MOSCOW (AP) — Russia presented Wednesday a new airliner that is intended to revive the nation's aircraft-making prowess and reduce its reliance on Western planes.
The MC-21, a twin-engine short- and mid-range passenger jet, was unveiled in the Siberian city of Irkutsk. It has been built by Irkut Corp., part of the state-controlled United Aircraft Corporation.
Unlike the old Soviet designs, the new jet is built with a significant amount of composite materials that help reduce weight and enhance fuel efficiency. It can be powered by Pratt & Whitney engines or new Russian-built engines, which are being finalized.
The new plane is expected to conduct its maiden flight next year, and deliveries to Russian flag carrier Aeroflot are set to start in 2018. Irkut has so far received orders for 175 planes, including 50 for Aeroflot.
Various models of the MC-21 are designed to carry from 165 to 211 passengers.
Aeroflot and other Russian airlines have increasingly relied on Boeing and Airbus planes, but the government has made the revival of domestic aircraft-making industries a top priority.
Russian Prime Minister Dmitry Medvedev hailed the new plane as the cutting edge in aircraft design, superior to Western planes currently in service.
"The MC-21 is new evidence of Russia's ability to create planes that move our aircraft manufacturing industry forward and allow us to compete with other countries," Medvedev said. "There are very few nations that have aircraft-making industries. They are the top league and we mustn't drop out of it."