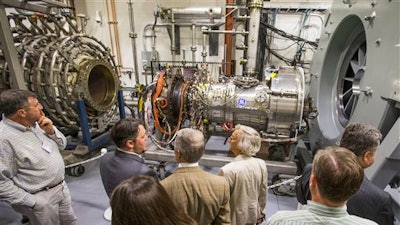 Robert Franklin/South Bend Tribune via AP
SOUTH BEND, Ind. (AP) — The University of Notre Dame held an open house Tuesday for its new $36 million off-campus turbomachinery laboratory that officials hope will raise the university's research profile and lead to more businesses moving into the technology park just south of downtown South Bend.
"This laboratory will become a catalyst for economic development," said Robert Bernhard, the university's vice president for research. "We expect jobs to come here as a result of people working with the facility and using it. We expect engineers and designers to locate here — in some cases temporarily, in some cases permanently."
The lab now has 37 employees and eventually is expected to have 60, with another 60 jobs being created by suppliers. Bernhard said the facility also should draw research grants.
The 25,000-square-foot facility will allow researchers to test parts of turbomachines in a way where they can alter pressure, temperature and speed while being able to see what's going on inside, Bernhard said.
"This is going to give us an opportunity to look at a lot of phenomena that hold back the development of these engines and turbines from greater efficiency, lower costs, greater safety and so forth," he said.
General Electric Co. is preparing to start a project in one of the facility's four test bays, and the university has reached an agreement with Pratt & Whitney.
John Affleck-Graves, the university's executive vice president, said the facility marks the first time Notre Dame has become involved in a major research relationship with a number of large corporations.
"Those are big steps for Notre Dame. But those are the waves of the future," he said.
South Bend Mayor Pete Buttigieg said the lab highlights the city's continuing attempt to rebound from the thousands of jobs that were lost when Studebaker Corp. went out of business in 1963. Decaying Studebaker buildings were torn down to make way for the technology park.
"I think this points the way ahead to the new economy," Buttigieg said. "The truth is, not all jobs are created equal. When you have good-paying, high-tech jobs, jobs that can beget jobs, it's exactly the kind of economic growth that you look for."