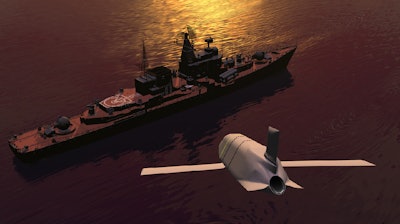 Lockheed Martin
Lockheed Martin has received a $321.8 million sole-source contract from the U.S. Navy for the continuation of the Long Range Anti-Ship Missile (LRASM) integration and test phase.
The integration and test contract funds continuation of LRASM flight testing and integration onto the U.S. Air Force B-1B and the U.S. Navy F/A-18E/F aircraft. LRASM early operational capability for the U.S. Air Force and Navy is expected in 2018 and 2019 respectively.
LRASM was selected as the Increment I solution for the Offensive Anti-surface Warfare (OASuW) program. After a competition in 2009, the Defense Advanced Research Projects Agency selected Lockheed Martin's LRASM to provide a demonstration of OASuW air-launched capability to defeat emerging sea-based threats at significant standoff ranges.
The success of that demonstration prompted initiation of an accelerated acquisition program, which is now led by the U.S. Navy.
LRASM is a precision-guided anti-ship standoff missile leveraging Lockheed Martin's successful Joint Air-to-Surface Standoff Missile Extended Range heritage, and is designed to meet the needs of U.S. Navy and Air Force warfighters in an advanced anti-access/area-denial threat environment.
Armed with a proven 1,000-pound penetrator and blast-fragmentation warhead, LRASM employs a multi-mode sensor, weapon data link and an enhanced digital anti-jam Global Positioning System to detect and destroy specific targets within a group of ships.