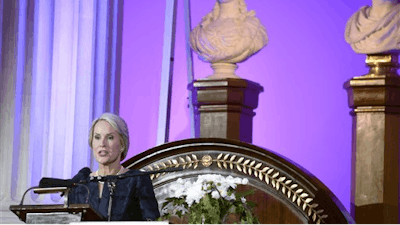 Heikki Saukkomaa/Lehtikuva via AP
HELSINKI (AP) — American biochemical engineer Frances Arnold, whose discoveries in "directed evolution" have helped produce medicines, including drugs for treating diabetes, on Tuesday was awarded this year's euro 1 million ($1.2 million) Millennium Technology Prize.
The 59-year-old professor of chemical engineering, bioengineering and biochemistry at the California Institute of Technology in Pasadena, was cited for "groundbreaking work that has a great impact on areas such as pharmaceuticals and gene therapy," with hundreds of laboratories and companies around the world using methods she developed, committee chairman Jarl-Thure Eriksson said.
"Directed evolution, which mimics natural evolution to create new and better proteins in the laboratory, uses the power of biology and evolution to solve many important problems, often replacing less efficient and sometimes harmful technologies," the citation said. "Thanks to directed evolution, sustainable development and clean technology become available in many areas of industry that no longer have to rely on non-renewable raw materials."
Finnish President Sauli Niinisto presented the award.
In her acceptance speech, Arnold said she was inspired by the natural world, "the very best inventor and engineer of all time."
"The biological world is the most spectacular example of crowdsourcing. Crowdsourcing, problem-solving — nature's been doing that for several billion years," she said. "We humans with our technologies are way behind."
Eriksson said that Arnold — the first woman to win the award since its launch in 2004 — had been "clearly the most outstanding candidate" in a field of 79 nominations. "From the start of her career she has been a pioneer in a previously male-dominated field," he said.
The Millennium Prize, for technological innovations that enhance the quality of human life in a sustainable way, is awarded every two years by the Technological Academy of Finland.
Past winners include Tim Berners-Lee for inventing the World Wide Web, Shuji Nakamura, the inventor of bright blue and white LEDs, and ethical stem-cell pioneer Shinya Yamanaka. The previous winner, in 2014, was British-American physicist Stuart Parkin for discoveries leading to a thousand-fold increase in digital data storage on magnetic disks used in large data centers, cloud services, social networks and downloads of music and film online.