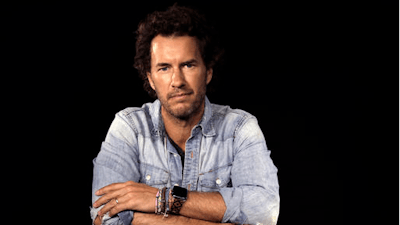 AP Photo/Nick Ut
In Argentina, South Africa, Rwanda and elsewhere around the globe, there's something that sticks out for Blake Mycoskie about the one-for-one shoe company, Toms, he started in his Venice, California, apartment 10 years ago.
While the idea was to give away one pair of his unique canvas slip-ons for every pair sold, another benefit emerged.
"Some of my best memories from the early giving trips are after we give the children shoes, they always want to play soccer," Mycoskie said in a recent interview from Los Angeles. "It's so cool that this single sport kind of unifies all the children we serve around the world."
The love of soccer remains, but much has changed for Mycoskie since 2006, when he decided on the for-profit model of giving through shoes.
For starters, he sold a 50 percent stake in his company to the private equity giant Bain Capital LLC nearly two years ago. On the personal side, he became a dad at precisely the same time, a huge motivator to give up some of the day-to-day responsibilities of Toms, now a force that includes a great variety of footwear, along with eyewear, bags and coffee.
Mycoskie, who isn't CEO but still has a hand on many fronts, including design, would not disclose his net worth, but with expansion came more money for projects.
In addition to shoes, the company's other wares help provide clean water, eye surgeries and the availability of safer births around the world. With his personal wealth, estimated at $300 million when he sold to Bain, he and his wife help young, socially minded entrepreneurs like he was when he hit on shoes as his focus while watching kids go barefoot as he traveled in Argentina.
There have been bumps along the way. Critics have been brutal.
"Every company has them," Mycoskie said. "I really kind put them in two categories. One is the criticism of, OK you are providing aid and if you are really serious about poverty alleviation, aid is not the only answer, and actually that criticism led us to change our supply chain to create the factory in Haiti, do the factory in India, do it in Kenya, Ethiopia, all these places."
Now, about 40 percent of all shoes given away are made in the countries where they are distributed, he said.
And the second kind of critic?
"Now the other criticism I think comes from saying that shoes aren't really needed, or just give them money, or why shoes in the first place," Mycoskie said. "I never set out to change the world in terms of alleviating poverty. I saw kids who needed shoes to go to school."
Mycoskie acknowledged that as "chief shoe giver," his preferred title, things were chaotic in the beginning. There was manufacturing, for one, and how to remain ethical and profitable, along with distribution challenges that once had a partner request money for a rented donkey to get the shoes where they needed to be.
To date, Toms has given away about 60 million pairs of shoes. The company estimates that through cataract and other surgical procedures, the company has helped restore sight to about 400,000 people, along with providing more than 335,000 weeks of safe drinking water and supporting safe birth services to about 25,000 mothers.
Toms would not share company valuation numbers but its worth at the time Bain bought in was estimated at $625 million.
Once a simple slip-on doing double duty for girls and boys, Toms now makes women's wedges — a top seller — high heels and ballet flats, along with brogues and athletic shoes.
In the early years, Toms got a boost when celebrities started wearing the shoes peddled by the young and handsome Mycoskie. The challenge was to keep them coming.
"People said, Blake, your customers will buy your shoes once because of the cause and the mission but they'll never buy them a second time unless they're comfortable, priced right, fashionable," he recalled. "The biggest challenge in recent years has been hiring designers to make that happen."
There were other bumps along the way.
As a Christian businessman, Mycoskie was lambasted in 2014 for giving a speech at an event hosted by the conservative group Focus on the Family, itself criticized as openly anti-gay and anti-choice.
"So beliefs in terms of my values and morals are very much a part of the center of Toms," he said. "Now political beliefs, religious beliefs — those really aren't. There's no real place for those I think in the business because the truth is we have customers and people who are amazing supporters of Toms that are on every single end of the spectrum."
Toms operates in more than 75 countries, including Syrian refugee camps in Jordan and China. Since starting the company, hundreds of others have jumped on the one-for-one bandwagon, from Pampers and Crocs to Subway and the Gap.
Mycoskie remains the face of Toms, including on social media streams, where he chronicles his globe-trotting adventures.
So who's this Tom guy?
There isn't one. The company's name, he said, stands for his vision from the beginning: Sell a pair of shoes today and give away a pair tomorrow. All of that wouldn't fit on the first tags he put in shoes back in Argentina, so he shortened "tomorrow" to TOMS.
"I've been called Tom, like, so many times, and I answer to it," Mycoskie said. "My wife always gets a kick out of it. It's just easier to go with it, so there is no Tom. We're all Tom."