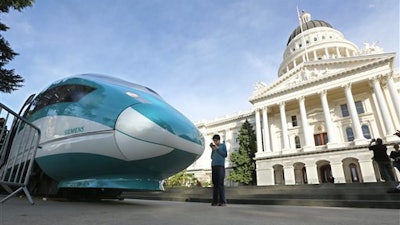 AP Photo/Rich Pedroncelli, File
SACRAMENTO, Calif. (AP) — The board that oversees California's high-speed rail project has approved the latest $64 billion business plan calling for trains to run from the Central Valley to the San Jose area starting in 2025.
Board members approved the plan Thursday after delaying the vote by a week.
Rail officials have pitched a $21 billion first segment between Merced and San Jose as the only way to ensure a useable segment gets built with the existing funding.
Previous business plans had called for the bullet train to head first to the San Fernando Valley.
Support for the project has waned since voters approved high-speed rail in 2008.
Chairman Dan Richard says although San Jose may get the first trains, Los Angeles County and Anaheim will see the first big spending.