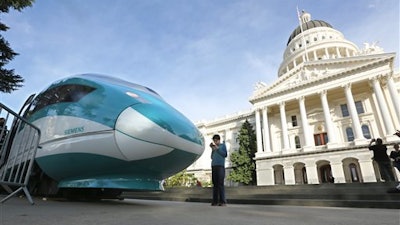 AP Photo/Rich Pedroncelli, File
SACRAMENTO, Calif. (AP) — The board that oversees California's high-speed rail project is expected to approve a revised plan calling for a $64 billion approach that sends the train from the Central Valley to the San Jose area before it heads to Southern California.
The board will meet Thursday in Sacramento, a week after postponing a planned vote to make changes to the revised business plan.
Central Valley lawmakers and activists complained vocally after a planned stop in Merced already under construction was left out of the most recent proposal for the bullet train released this winter, prompting officials to reverse course again last week.
The changes also include adding a station in Wasco, near Bakersfield.
Rail officials have pitched the first segment between the Central Valley and San Jose for $21 billion as the only way to ensure a useable segment gets built with the existing funding available.
It also avoids the expensive and tricky engineering work required to tunnel through the Tehachapi mountains in Southern California delaying those residents' complaints for a while.
The first stretch would begin operating in 2025, three years later and 50 miles shorter than the original planned route that would have first connected to the San Fernando Valley.
High-speed rail CEO Jeff Morales told the board last week that the state will spend $4 billion in Southern California to prepare for the bullet train, seeking to reassure worried officials that a recent change in plans calling for the train to head first to San Jose might mean the train never makes it to the Los Angeles area.
The authority is required by law to update its business plan every two years and proposals and funding projects for the system have frequently changed, leading to criticism that the latest proposal is no more likely to become reality than any of the others.
Gov. Jerry Brown has remained a supporter of the project, which he maintains will help cut carbon emissions.