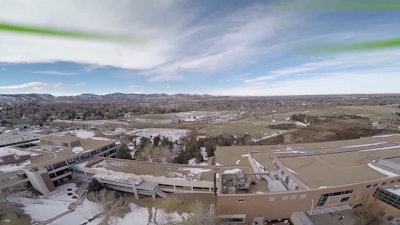 Sean Kelly, Danny Rogers, Matt Armijo, Mike Fisher, Valeria Mokrushova
The National Science Foundation (NSF), in partnership with the American Association of Community Colleges (AACC), has named 10 finalists for the second annual Community College Innovation Challenge, which fosters the development of crucial innovation skills among students.
The Community College Innovation Challenge (CCIC) calls on students enrolled in community colleges to propose innovative solutions based in the fields of science, technology, engineering and mathematics (STEM) in order to address perplexing, real-world problems.
All of the finalists submitted videos describing their proposals.
"Community colleges provide a unique avenue for developing our STEM workforce and broadening participation, and the CCIC is a platform that highlights the innovative efforts of students and professors to enhance their knowledge and contribute to solving challenging issues," said Joan Ferrini-Mundy, NSF's assistant director for Education and Human Resources.
Community colleges play an important part in developing America's technical workforce. They do so in part by involving underrepresented groups in science and recognizing the importance of mentoring students for STEM careers.
Many graduates become highly valued employees in a variety of fields, supporting industry's need for an educated and technologically proficient workforce.
"AACC is proud to partner with NSF on the Community College Innovation Challenge in recognizing the exemplary efforts of community college students in developing STEM solutions to real-world problems around the nexus of food, energy and water systems," said Walter G. Bumphus, President and CEO of AACC. "The 10 CCIC finalist teams are implementing thoughtful and innovative STEM research that contributes to scientific discovery, progress and a more sustainable future."
This year's CCIC focused on a priority area of research for NSF: the Innovations at the Nexus of Food, Energy and Water Systems (INFEWS) program, which seeks new ways to help society deal with growing resource demands.
Through INFEWS, NSF has invested nearly $75 million in multidisciplinary research. Many of this year's finalist projects focused on sustainable water resources, an area of research that NSF and other federal agencies pledged to support this week at the White House Water Summit.
Students who participate in CCIC will contribute to this national effort, and benefit from prizes and professional development opportunities.
The 10 finalists are:
Northeast Community College, Nebraska: CROP-IT Solution to Regulate Irrigation Equipment
This multi-year effort will collect and compare data on water management from Northeast Community College's farm to optimize crop yield and minimize water and energy usage.
Tulsa Community College, Oklahoma: Automated Microfluidic Colorimetry Lab for Aquaponic Monitoring (AMCLAM)
Team AMCLAM is developing an inexpensive, fast means to monitor water chemistry and quality, which has the potential to assist with large-scale aquaponic food production.
Normandale Community College, Minnesota: Wastewater Hydrokinetic Turbine
A team of engineering students from Normandale Community College propose to install and implement hydrokinetic turbines in wastewater treatment plants to generate renewable energy.
Perimeter College at Georgia State University, Georgia: Autonomous Technology Lake Algae Skimmer
A team of Perimeter College students seeks to address the problem of algal blooms that threaten water ecosystems through the development of an autonomous algal skimmer.
Northeast Wisconsin Technical College, Wisconsin: Junk Yard Generator
Northeast Wisconsin Technical College's Junk Yard Generator project explores the creation and use of a zero carbon emission source of energy that will not pollute air or water.
Forsyth Technical Community College, North Carolina: Energy Efficient Nanotech Solar Greenhouse
The Forsyth Technical Community College team proposes a way to modernize today's greenhouses to fit individual customer needs by incorporating the use of renewable energy sources.
Henry Ford College, Michigan: Rescue Restaurant Food Waste to Address Hunger
In the U.S., 40 percent of food goes uneaten -- and restaurants account for 37 percent of that food waste. The Henry Ford College team proposes to develop a compact, easy-to-use, self-automated food preserving machine for restaurants.
Red Rocks Community College, Colorado: Cooling Tower Blow Down Water Conservation
The Cooling Tower Blow Down Water Conservation design provides a method to substantially reduce the amount of water used by air conditioning for large buildings.
Bucks County Community College, Pennsylvania: The Wind Catcher Max Wind Tower
The Wind Catcher Max Wind Tower offers an alternative energy solution that recycles water. Its construction is lighter and more transportable than standard wind towers and takes up less land than solar panels.
Virginia Western Community College, Virginia: Efficient Mechanical Collection Method of Recovering Waste Apples
The team proposes a mechanical collection method of recovering apples that otherwise could not be sold to produce an environmentally-friendly biofuel, allowing more efficient use of U.S. orchards and new economic opportunities for apple producers.