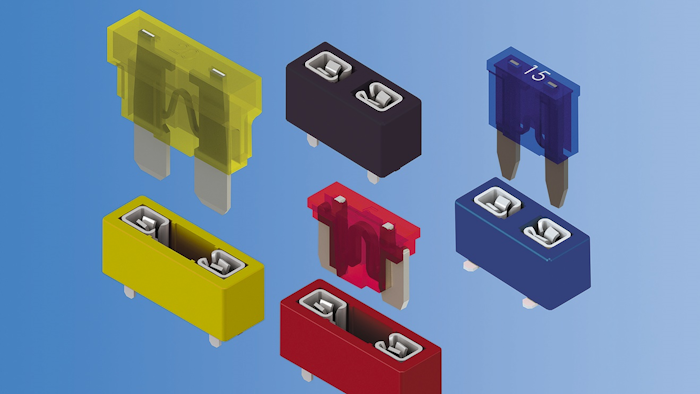 Identifying Automotive Blade Fuses on PCBs is now quick and simple with the colored insulator bodies now available as the latest addition to Keystone Electronics (Astoria, NY) series of low insertion force, compact Auto Blade Fuse Holders.
Rated for 20 AMPs, 500VAC continuous usage, these new holders are available in Surface Mount (SMT) and Thru-Hole (THM) types. The unique color-coded bodies match those in use for actual automotive fuses: Red for 10Amps, Blue for 15Amps and Yellow for 20 Amps. Designed to accept Standard, "Mini" and low profile "Mini" fuses. The new entries not only reduce installation time and assembly problems, they are engineered to withstand shock and vibration with a fuse installed.
The colored insulator bodies are made of durable UL 94 V-0 High-Temp Nylon and supplied with tin-nickel-plated Brass contacts. All holders are available in bulk and SMT types are also available on Tape and Reel for use with most vacuum and mechanical pick-and-place assemblies.
www.keyelco.com; 800-221-5510