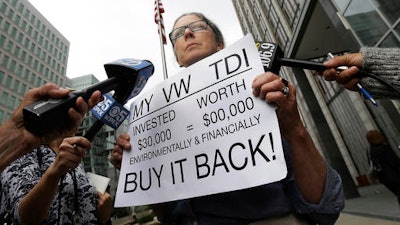 AP Photo/Jeff Chiu, File
Loyal owners of Volkswagen diesel cars understandably felt betrayed when they learned the German automaker had rigged the testing process to bypass U.S. emissions standards. But many are having a change of heart after learning how much VW will pay them to turn in their cars.
San Diego resident Mark Holthoff, a manager for a community site for used-car enthusiasts called Klipnik.com, was disappointed when he saw the value of his 2014 Volkswagen Golf TDI plummet 30 percent after the "dieselgate" scandal broke in September 2015. But Holthoff felt better after reading the terms of the proposed $14.7 billion settlement and determining that VW would pay him $26,000 for his hatchback. It nearly matched his purchase price of $27,000 — which meant that, "basically, we got a car for free for the last three years," he says.
A host of federal and state agencies had sued VW, which has acknowledged fitting nearly 475,000 VW and Audi 2-liter diesel vehicles from the 2009-15 model years with defeat-device software to pass smog tests. Thanks to the settlement announced in June, people who bought or leased the affected vehicles are sorting through a complex set of tables and charts to find out what they will be paid — or waiting to see if a fix will be available to prevent excess release of pollutants.
VW is offering "a complicated package but it's hugely comprehensive and allows for a lot of choice," says Karl Brauer, a senior analyst at Kelley Blue Book, an automotive research company. "There are many different routes, and people can figure out which is best for them."
Sorting Through Options
The settlement received preliminary approval from a federal judge in late July and is expected to get the final OK in October — at which point the payouts could begin almost immediately. Current owners would face two options:
Sell the car back to VW for its National Automobile Dealers Association (NADA) value — the trade-in price for the car in clean condition, adjusted for options and mileage — at the time the cheating was revealed, on Sept. 18, 2015. The Federal Trade Commission estimates that the compensation could be between $12,500 and $44,000.
Keep the diesel car and have it brought up to standards for free by a fix that VW is developing. However, it's unknown what the fix will be, and how the car will perform after that.
In either case, current owners (and some past owners) also would receive a restitution payment of $5,100 to $9,800, depending on the car model and year. Drivers leasing the affected diesels could terminate their leases without penalty and receive a restitution payment.
In automotive forums and conversations with VW TDI owners, many people seem inclined to take the buyback and turn in their vehicles.
"I loved my car, and if this hadn't happened I would just keep driving it," says Ron Montoya, Edmunds.com senior consumer advice editor, who owns a 2010 VW Golf TDI. "But I can't pass up that much money."
How to Get Ready
The first step for current owners is to find out if they're eligible for the buyback and restitution, and what the terms will be, Brauer says. VW began notifying eligible owners in recent weeks, but if you haven't received your notice, you can begin checking options by going to the VW settlement website.
To begin the buyback process, register via VW's claims portal, which automatically adjusts for options and mileage, and then totals the buyback offer. Remember that none of the terms will be put into motion until the settlement is approved.
Collect your car's documents and set aside about a half-hour to work through the application process, Montoya says. Once you know the buyback figure, consider which replacement car you can buy with the amount. Keep in mind that the settlement locks in the buyback price for two years (the deadline to submit a claim is Sept. 1, 2018).
Former VW and Audi diesel owners or lessees also may be eligible for some cash payments under the settlements (depending on when they sold their car or ended their lease) but the deadline for them to register is Sept. 16, 2016, according to VW's website.
Not everyone is happy with the settlement. Some complain that they bought the car because they were high-mileage drivers, and loved its fuel economy. For them, the settlement falls short because they say they're being penalized for the excess mileage in the buyback value. Meanwhile, Consumer Reports is urging regulators to improve the settlement, with suggestions including higher buyback prices.
Montoya predicts that VW will offer generous "loyalty" cash-back incentives on new cars to win back customers. He's planning to buy another VW Golf — but this time with a gasoline engine.