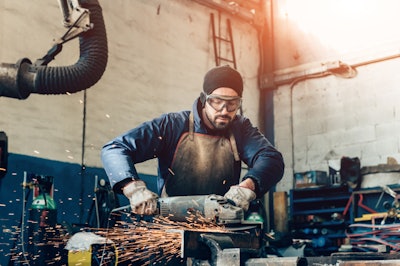 iStock/lentolo
Kickstarter is a website that budding entrepreneurs and established businesses have used to gather funding for potential products and projects without the need for angel investors or a similar financial apparition.
Kickstarter essentially kick-started (sorry) the crowd-sourcing revolution – providing an opportunity for real money to reach inventors and start-ups before they are fully established (from a traditional perspective).
This democratization of manufacturing trends with the rest of what has become known as the on-demand economy – Uber, Airbnb, etc. – has become a boon for start-ups and major corporations alike.
So, what does that mean for manufacturing?
The trend means that lean manufacturing is more important than ever, but also, it's harder to achieve. The profit-by-quantity model is dwindling as consumers and businesses are demanding more artisan and customized products. Turn-around times are expected to be faster, while quality is expected to be higher.
It's All About Accessibility
When 3D printers made a blaring introduction to the consumer world with sub $2,000 fused deposition machines, it ignited inspiration amongst tinkerers and inventors. What's more, it instigated fear through much of the traditional manufacturing world.
There's nothing to fear from 3D printing, as there is a major hill to climb to meet the scalability and cost of more long-established forms of fabrication. But, the 3D printing revolution did usher the idea that you don't need multi-million dollar facilities to engineer, prototype, and manufacture quality products. It grayed the lines between consumer and fabricator, and made viable the idea of producing real products in a non-industrial environment.
This is where manufacturing is being inversely scaled and multidisciplinary mindsets are vital.
For quite some time, Tormach customers have been using their machines for customized and short-run manufacturing in industries that have long been relegated to goliath manufacturing organizations. Thanks to size, cost, and approachability, the machines lend themselves to use by emerging inventors and moonlight engineers – effectively lowering the barrier of entry to the world of real fabrication.
Often, major manufacturing partnerships are still needed to develop billion-dollar companies, but those cumbersome organizations are beginning to feel the heat from start-up companies that are enabled through personal machining and manufacturing. Small-shop manufacturing and access to a democratized economy makes a valuable pool of opportunity for aspiring entrepreneurs.
While some small organizations will still only look to be bought out by the bigger players, many start-ups are seeing light of real profits without selling to a major organization.
Thanks to more accessible tools, the next Apple or GE is almost definitely in your neighbor's garage.