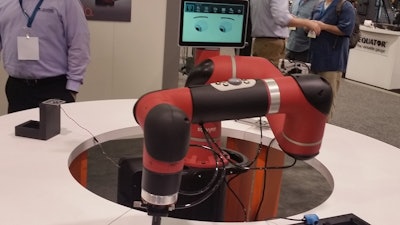 David Mantey
Two weeks ago, I found out that the future of collaborative robots had a name, and that name was Sawyer.
Well, collaborative robots (cobots) go by many names – I also met the Universal Robots trio UR3/5/10, as well as Fanuc's CR-7iA – but I must admit that Boston, MA-based Rethink Robotics made greater strides humanizing robots by issuing Sawyer, and Baxter before it (him?), Old English names. Baxter is derived from the English occupational surname meaning baker, and Sawyer is inspired by an old wood cutter - though I'm not sure that I yet feel comfortable standing in front of Sawyer's cold and soulless stare while he wields a shimmering steel blade. I suppose that I, too, have some room to grow.
According to Carl Palme, applications product manager at Rethink Robotics, the names tend to make people more comfortable around the robots, and I'm sure that the constant eye contact doesn't hurt either.
Sawyer is the latest in the company's line of repeatable collaborative robots, and he was on full display at UBM West 2016 in Anaheim, CA (see video below). It was only three years ago that I was first introduced to Baxter, Sawyer's older, larger (and less capable) sibling – though he is still up one in appendages.
Sawyer has a higher payload of 4 kg/8.8 lbs. (Baxter taps out at 2.2 kg/5 lbs.), and a longer reach of 1,260 mm (compared to Baxter's 1,210 mm), and with an accuracy of 0.1 mm, he is best-suited for machine tending applications in low volume, high mix applications, as well as circuit board testing, material handling, packaging, kitting, line loading, and order fulfillment.
Palme said that Sawyer is also capable of enabling the industrial internet of things (IIoT), even if users aren't ready to fully take advantage of this capability. Sawyer has high-resolution force sensors built into every joint, and with seven degrees of freedom, it produces a lot of data.
The sensing helps with preventive maintenance, but it even has the ability to be paired with legacy equipment and capture efficiency data to spot possible process improvements.
Right now, Rethink has the sensing hardware to produce the IIoT data, and the company is currently building the software to help put that information to work.
According to Palme, Sawyer's IIoT capabilities are not meant to cause friction with human counterparts regarding inefficiencies, but rather recognize, report, and reduce friction. So, I suppose Sawyer is the mall cop or hall monitor of the collaborative robotics world, in a strict observe and report capacity.
Skepticism remains one of the company's greatest challenges as it pushes to place more cobots on shop floors. Sawyer is lighter, weighing 42 lbs. without its pedestal (Baxter tips the scales at 165 lbs.), and easier to navigate from job to job, but Palme considers one of its greatest benefits to be the ease of installation. He says that it takes about an hour to train Sawyer how to do a task, and about a day (in a worst-case scenario) to interface it with a new machine.
What struck me during my brief visit with Palme was his passion and excitement for the robotics industry. Was he deep into the coffee that afternoon? Certainly, but he insisted that his positive attitude was more of a representation of Rethink's start-up mentality, as well as a corporate culture that pushes employees to constantly interact with customers in person.
"You can't just decide to be innovative," Palme said about the company. "You make mistakes, but you need to learn from them and move on."
It will be interesting to see where Rethink will go from here, but for the next-generation cobot, how about a female influence? Maybe a Heather, Lilly, or Riley? Just a thought, cobot suffrage and all.
What's your take? Or do you have a better name? Comment below, or email [email protected].