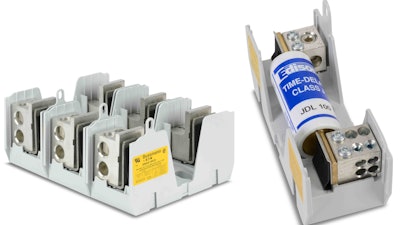 AutomationDirect
One phrase familiar to real estate agents is "location, location, location." Similarly, electrical and automation panel designers know finding enough control panel real estate and working room can be tough for both retrofit and new projects.
For retrofit projects, available space is already defined, and often the updated work must be performed within existing cabinets. Even for new projects, use of every square foot of a building or facility costs money, so the size of these areas must be minimized. The exterior dimensions of any control panel are therefore always constrained to some extent, which translates to a finite amount of room within the panel.
Fortunately, many newer electrical and controls devices are smaller than previous devices performing similar functions. For instance, human-machine interfaces can replace numerous indicating lights and pushbuttons, and a micro PLC can replace a multitude of relays and timers. Helping the situation even more are the many "two for one" components able to perform multiple functions, saving designers and installers time and money.
Combining Overcurrent Devices
Fuses are necessary to provide overcurrent protection for transformers and conductors, and sufficient working space is needed when they are mounted in control panels since most will require replacement at some point. Common control panel transformers typically require two fuses on the primary side and one on the secondary. Instead of specifying individual fuse holders, designers can choose a modular combination fuse block.
This minimizes control panel space requirements and allows an installer to run all wiring to and from one consolidated fuse block. Down the road, service personnel will appreciate that all the overcurrent functionality for a given transformer is grouped in one area.

Distributing and Protecting Power Circuits
A similar concept comes into play when the load side of an overcurrent protection device must be wired to many downstream devices. The standard approach calls for installing fuses, and then connecting wiring to and from a power distribution block. For this common situation, designers can choose a combination power distribution fuse block (Figure 1).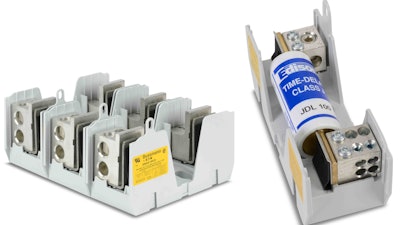 Besides the basic space savings, this all-in-one device eliminates some wiring and still offers an advantageous short-circuit current rating (SCCR). This translates into installation savings, helps designers achieve the necessary panel ratings, and removes a point of failure from the circuit. The compactness of this device does not make it any harder to install or service than traditional devices.
Disconnecting Motor Circuits
For electrical disconnect switches, there is a special category for distribution and horsepower-rated equipment based on the UL 98 standard. Many times users also need fusing incorporated in these circuits. The most common application can meet all National Electrical Code (NEC) requirements by using an all-in-one fusible disconnect switch (Figure 2).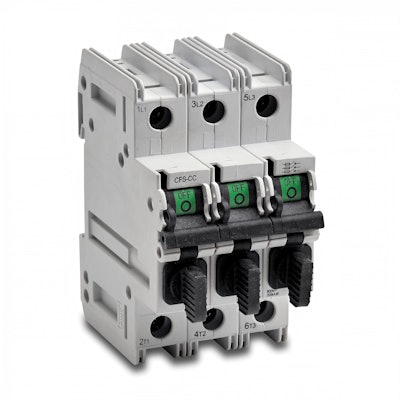 Note that UL 98 devices typically meet a higher standard than UL 508 devices, and the former may have SCCR ratings many times higher than the latter. Once again, not only can an all-in-one device save panel footprint, it can also deliver other benefits, in this case a higher SCCR.
Manual Motor Control & Protection
Motors must be switched on and off, and instantaneous overcurrent trip protection and thermal overload protection must be provided. Manual motor starters (MMSs) with integrated circuit breakers and overloads provide this functionality in a compact configuration (Figure 3).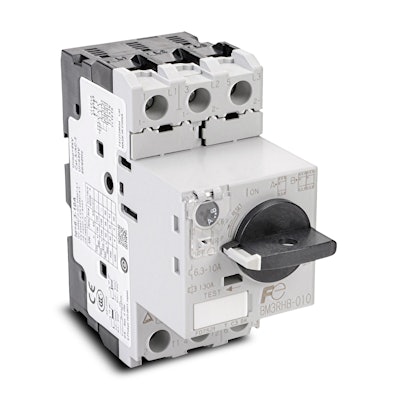 These MMSs deliver two functions in one compact package. Design is simplified because only the single device SCCR need be considered, as opposed to evaluating the SCCR of several different components.
Keeping It Small
The preceding sections have addressed the most common electrical panel design cases for circuit protection, power distribution motor disconnecting means, and motor control devices. Conventional designs use individual components for every single function.
While there may always be a need for individual components, the benefits of using multi-function devices are compelling. Sometimes one combination device can be less expensive than multiple individual devices. Even more importantly, the simplified design and improved ratings can ease the task of designers and save valuable labor costs in assembly. Finally, the space savings and wiring reduction can be significant, and may enable the design to use a smaller control panel or provide more working space.
About the Author

Brent Purdy, PE is the Product Manager for Power & Circuit Protection at AutomationDirect.com. He holds a BSEE degree from Georgia Institute of Technology and is a certified Professional Engineer in the state of Georgia.