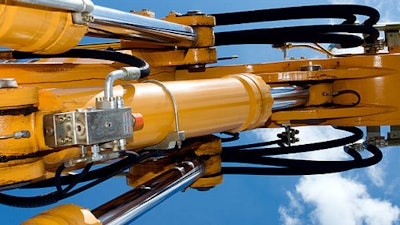 To effectively safeguard the environment, hydraulic components must be maintained, repaired, and rebuilt in accordance with stringent quality control and safety measures.
Whether working with cylinders, hoses, or connectors, improper hydraulic repair and maintenance techniques can negatively affect the environment, put workers and citizens at risk, and cost you both time and money.
Preventing Hydraulic Component Failures
Component failure is the main cause of hydraulic fluid spills; preventing these failures is the first line of defense against various environmental accidents and degradation.
For instance, replacing hoses when their outer shells begin to break down can effectively prevent failures that may cause injuries, deaths, and property or environmental damage; fraying hoses can fail at any time, but carefully monitoring their quality will help ensure optimal environmental safety.
Below, we'll outline a few easy tips to keep in mind to safeguard the environment while maintaining high quality and reliability.
Regular Hydraulic Component Maintenance & Monitoring
While some engineers are now making use of environmentally friendly, biodegradable hydraulic fluids, regular maintenance performed on hydraulic accessories and components is much more cost effective than spill remediation, not to mention the heavy governmental fines involved for violations of environmental best practices.
It's worth noting, however, that these environmentally fluids are often much less harsh on components and machinery, allowing for a more sustainable, safer process as well as longer-lasting parts and systems.
Hydraulic pumps, one of the main culprits of hydraulic failure, should also be closely monitored to prevent environmental damage and unnecessary expenditures.
Failing hydraulic pumps cause chain reactions, damaging other components and system parts, so it's critical to filter hydraulic oil regularly. Keeping components cool will also help maintain optimal quality and efficiency, as overheated parts can cause degradation and failure.
Proper Hydraulic Component Disposal
Servicing hydraulic parts inevitably results in waste oil. To ensure this oil is properly disposed of, make sure it's stored in a secure holding tank for regularly scheduled collection by an experienced, licensed contractor.
Likewise, scrap metal — a byproduct of many hydraulic repair services — must be disposed of in accordance with safety and environmental measures to ensure harmful chemicals are not released.
The Benefits of Remanufacturing
While proper hydraulic repair services and maintenance are key in preventing failure and protecting the environment, making use of remanufacturing techniques can also go a long way in maintaining eco-friendly best practices.
Remanufacturing hydraulic pumps, for instance, allows for their use in as many lifecycles as possible, conserving materials and components while greatly reducing pollution and the amount of required energy. This also eliminates the need for new raw materials such as iron, copper, and aluminum, keeping them out of landfills.
Learn More
Besides incurring added expenditures, labor, and energy needs, hydraulic repair services and maintenance can pose serious environmental threats. Keeping these tips and considerations in mind, however, can greatly reduce the risk of safety and environmental risks while allowing you to establish a reputation as a responsible, forward-thinking business.
In today's shifting landscape, consumers and business partners alike are demanding environmental assurance and safeguards, so it's important to stay ahead of the curve.
Metro Hydraulic Jack Co., based in Newark, NJ, is a third generation family business leading the Tri-state area in hydraulic sales and repairs. Since 1941, the company has provided professional services while carefully considering their impact on the environment.