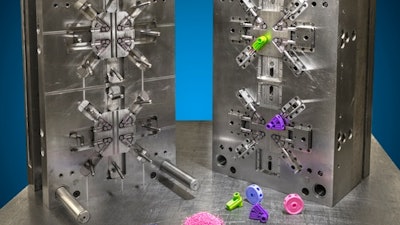 When sourcing a plastic injection molder, determining the cost of the mold is typically a main priority; the mold itself presents the greatest upfront production cost, and a number of factors can affect final price. An experienced manufacturer will be able to provide a final price before signing on. But what exactly impacts the cost?
Below, we'll take a look at some of the most common variables impacting mold cost and guide you in navigating them to ensure optimal quality and value.
How Manufacturing Location Affects Mold Price
Manufacturing location can greatly affect final mold cost. Building a mold in the United States will allow for strict tolerances, whereas a mold built in Asia may not be able to adhere to the tight tolerances required for your project. Cost savings used to outweigh these disadvantages, but with overseas labor costs on the rise, especially in China, it no longer makes sense to have molds manufactured abroad.
Sourcing locally will also ensure optimal quality; molds made in other countries are typically made from lower-quality steel or even aluminum, resulting in shorter lifespans. Most high-production U.S. mold makers use only the highest-quality materials available and work with cutting-edge CNC machines in order to meet strict performance standards — which in turn saves you money in the long run.
Input Factors & Mold Cost
Procurement and purchasing managers should request quotes from multiple molders for each project, as price points can vary greatly. Designers will look at inputs such as prototypes, drawings, and sample parts to determine the best mold solution. They may maximize efficiency by redesigning the part and increasing the number of parts that can be produced per molding cycle.
Molds with tighter tolerances, more cavities, and longer lifespans generally cost more upfront and require more time to build. The long-term savings, however, can be significant, as high-quality molds will need less maintenance over time.
Mold Features Affecting Final Mold Cost
The following mold features will all affect overall price, and should be taken into consideration during the sourcing and design phase.
Number of Cavities —

As mentioned earlier, the more cavities a mold has, the more costly it is to manufacture. More complex designs will require more tooling work and more time. Experienced molders, however, will be able to maximize cavitations for optimal productivity. It's usually recommended to create one mold per part rather than making a family mold, which is created with various cavities for different parts. Family molds are more likely to produce inferior parts and create more maintenance issues.

Mold Base —

The mold base acts as a case to hold all the mold cavities, components, and inserts. Its price is determined by its size and the type of steel used in its construction, with customization tacking on extra costs. Bases are typically available in standard sizes and then further machined as needed to meet a specific project's requirements.

Core Metal —

For short-term use, molds can often be made from aluminum, allowing for significant cost savings. For projects spanning several years, however, aluminum molds usually end up costing more in the long run, as frequent maintenance will likely be required.

Cavity/Core Machining —

Every mold requires customization for placement of cooling lines, ejectors, cavities, and cores, all of which can impact costs. Steel type will also affect costs; although necessitating the highest upfront cost, hardened steel molds last the longest and allow for extended production life.

Part Complexity —

Part complexity — such as surface finish of the final piece or the number of undercuts — also affects mold cost. Parts requiring tight tolerances will raise total costs as well.
Turnkey & Vertically Integrated Injection Molding
Some mold builders also offer part manufacturing services, allowing clients to receive all services under one roof. This can help cut down on mold building costs, as many full-service molders will subsidize some or all of the mold cost based on the full term and value of the contract. These manufacturers can offer customers the lowest possible price per part while effectively maintaining their profit margins.
Learn More
Navigating the factors that affect mold price can seem daunting, but referring to this guide throughout sourcing and design will help simplify the process. Working with a reputable manufacturer who can create high-quality, long-lasting molds will ensure cost savings for years to come.
For more information on the custom plastic injection molding process and cost breakdown, check out Rodon's eBook, "An Introduction to Plastic Injection Molding."