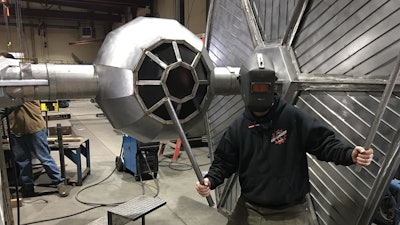 Gerlinger Steel & Supply is a Northern California-based company that provides a range of services, everything from metal and industrial supplies to used machinery and prefabrication services.
Being a smaller, regional operation (~70 employees), they don't typically find themselves at more than a handful of tradeshows. Usually, they attend a few farm shows, but that typically maxes out the tradeshow budget. When they do attend these events, they look to make a splash, and turn a few heads that could belong to future new customers. When the company was preparing to attend a show last year, they needed a bold new show piece, so they turned to the dark side.
"We were looking for something to bring people to our booth and highlight what we do and the different capabilities that we have at our shop," says Jason Bahr, 3D CAD project manager at Gerlinger.
Originally, the company thought of something big and bold, like an archway made out of steel, but Bahr's boss challenged him to come up with something that would highlight the company's in-house fabrication capabilities. Bahr went to his boss and asked him to keep an open mind before he pitched his latest idea, a Star Wars TIE Fighter (view photos in gallery).
The TIE fighter was the symbol of the dark side's imperial fleet in the original Star Wars. The single-pilot vehicles designed by Industrial Light & Magic were often caught in dogfights with X-wings and other rebel craft.
The boss liked the idea, so Bahr started modeling the craft in SolidWorks.
"I had to be conscious of the capabilities that we have and how we could actually produce this thing, so I had to model it accordingly," Bahr says.
According to Bahr, the company can accommodate large tube diameters and can laser cut holes or slots into tubes, all processes that were previously done by hand. After the TIE fighter was modeled, the stainless-steel parts were cut out of sheet metal, and then roll formed and laser cut before they were welded together. The company used:
A Mazak FG 400 II tube laser that accepts a 16" diameter round and 12" square tube up to 50' long.

An Amada FO M II 3015 NT flat laser.

Accurpress 250 ton CNC press brake.
"You hope for the best when the parts came together, but we had to use a hammer and a little blunt force to get things to go where they were supposed to go," Bahr adds. The parts also took some grinding, but in the end, the TIE Fighter came together in about a month.
Since it was a side project, the team found time to build the TIE fighter when they could. The entire process took 30 days, but Bahr notes that they weren't working eight hours a day.
The completed structure is only a 40% scale that should weigh around 2,100 pounds. The sculpture hasn't been officially weighed (the company is looking for a scale big enough), so the estimate was taken from the modeling software, which is typically a close approximation. It is 96" wide, 104" from the front to back (at the wing), and 120" tall.
Bahr doesn't know the cost of materials either, but he did note that while he hoped to build a full-scale model, it simply wasn't feasible.
"Because we wanted to transport it, we had to determine how large it was going to be," Bahr says. "We had to fit this thing on the back of a trailer, so we knew from the get-go that we had to stay within DOT regulations as far as how wide it was, and how tall it was.
"Originally, we wanted to go full scale, but that would be over 24-feet tall and we couldn't justify taking three trucks to haul it to a show."
The TIE fighter is currently turning heads at the company's facility in Redding, CA, but the six-person team that built it performed most of the welding and fabrication at the company's Woodland, CA facility. Bahr built the fighter with lead fabricator Jake Mittendorf, contributing fabricators Ben Bustamante and Nick Madera, laser operators Jeremy Smedstad and Ricardo Reyes, forming by press brake operator Kenny Thakhamho, and shop foreman John Dawson.
The craft could soon make an appearance at a Star Wars-themed dance at a local school. It certainly beats the traditional floral archway, though I suppose that depends on who you're asking.
According to Bahr, the company has held initial discussions regarding bringing a bit of the light site into the shop. They might soon find themselves working on a massive X-wing fighter. You know, to balance things out