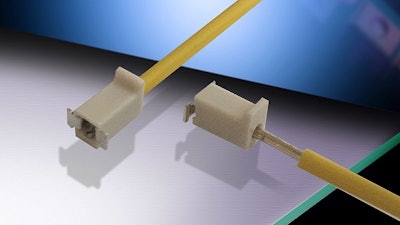 Tom Anderson, AVX
Hiring Chinese laborers to hand-solder wires to printed circuit boards has long been a common practice due to extremely low labor costs that have historically undercut even the most simplistic connector solutions. However, these cost savings have always come at the expense of the reliability.
The manual wire attachment process is wildly inconsistent when compared with the repeatability of pick-and-place machinery, and — until now — there hasn't been a cost-effective connector solution that could reliably affix individual wires to a PCB at a perpendicular angle without outsourcing hand soldering to other regions of the world.
Introduced to market this very month, a new vertical poke-home connector especially designed to provide engineers with a reliable, cost-effective alternative to hand soldering is finally poised to change just that.
This unique new connector is expected to prove especially useful as manufacturing costs and process repeatability continue to become more global concerns in response to the slow, but steady shift from Chinese production back to regional production in hopes of reducing logistic costs and moving bulkier products closer to end-user consumption.
The development team behind this new vertical poke-home connector set out to create an innovative new contact design that could adequately handle the mechanical challenges associated with a large 18AWG wire vertically protruding from an SMT-attached connector on a PCB, which was not a concern with hard-soldered wires.
This new, standalone connector needed to have a minimal X-Y footprint on the PCB, in addition to strong column or pillar strength in order to survive the stresses of such large wires being pulled at angles up to 45° in industrial applications, including: LED drivers, power supplies, motor controls, and premise wiring in building controls.
Unlike traditional horizontal connectors, which generally demand minimal Z-axis heights, vertical connectors need to be tall, strong, and capable of fitting into the extremely tight spaces between much larger and densely populated plated through hole (PTH) components, such as electrolytic capacitors, transformers, relays, and inductors (see Figure 1 in gallery or below).
To meet these difficult challenges, the team focused in on a new stamped-and-formed phosphor bronze box contact that could provide a strong single-contact solution that maximized both board attachment and wire capturing strength.
The pre-plated phosphor bronze material the team selected provides excellent spring qualities with high fatigue and corrosion resistance, and the tin plating enhances corrosion resistance and contact strength, both of which are critical in industrial applications. The resulting four-sided box contact provides multiple benefits from a single stamping.
Two opposing sidewalls create the solder tails, which enable the solid and stable attachment of the connector onto the PCB, as well as provide the pillar strength necessary to survive the manual handling of an 18AWG wire.
The other two sides comprise the high strength contact beam, which is capable of pressing the exposed 18AWG conductor against the opposite sidewall with significant force to maximize the electrical connection.
When a wire reaches the halfway point of insertion, the beam is deflected against the sidewall of the insulator, which both supports the beam and transfers the contact force down the beam. This action concentrates maximum forces at the beam tip, which digs into the wire at the front edge of the contact and provides in excess of 35 Newtons of vertical pullout force.
From a performance perspective, this new connector achieves up to 8A of current with less than 5mΩ of contact resistance, and voltage ratings up to 600V, based on adjacent component spacing that allows for proper creepage and clearance distances. The insulator material is a glass-filled high temperature thermoplastic UL94V-0, which meets RoHS requirements and offers an operating temperature range from -40°C to +130°C.
Since industrial applications often require robust protection from water and other harsh outdoor environment hazards, products are typically potted in final assembly to seal and protect the electronics.
So, in addition to designing the new vertical poke-home connector for excellent electrical and mechanical reliability, the engineering team also designed the connector with tighter tolerances in critical areas to limit the potential for ingress resulting from such secondary potting or epoxy encapsulation processes.
The top surface of this connector features a small chamfered lead-in that guides the stripped conductor into the connector and allows for the insulation of the wire to butt up against the top surface, which helps prevent potting and encapsulation materials from accidentally flowing into the contact area and disrupting performance.
Despite the various intricacies of the connectors' physical design, the engineering team also successfully miniaturized the connector envelope, reducing PCB space requirements to a mere 3.25mm x 5.3mm (L x W).
Standing only 6.0mm height, this new vertical poke-home connector features a 1.15mm flange on top of the insulator to provide a 2.1mm vacuum pick-up point that facilitates SMT processing from the tape and reel pockets the parts are supplied in.
This newest entry into the single piece poke-home connector market finally provides manufacturers with a reliable, cost-effective alternative to outsourcing hand soldering to other regions of the world.
Additionally, now that this harsh 18AWG application has been successfully tackled for power and high current applications, similar connectors for smaller AWG wires will soon be developed to meet a variety of signal level applications, which should prove especially useful as manufacturing costs and process repeatability continue to become more global concerns in response to the slow, but steady shift from Chinese production back to regional production.