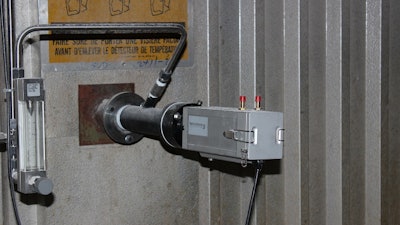 Process Sensor
Biomass fuels, especially wood, wood waste and associated byproducts, continue to be a major source of energy for power generation in the world.
Since it is plentiful and readily available, organic biomass is preferable to fossil fuels that take millions of years to develop in the earth and are subject to depletion as they are consumed.
"Hog fuel" boiler applications for biomass-fired power plants utilize an unrefined mix of wood fiber - basically any type of wood byproduct including bark, chips, wood fines and strands.
A high degree of accuracy in measuring and controlling the temperature of flue-gas in power generation plants is essential. Conventional contact-type thermocouples limit the area measured to the boiler wall surface areas rather than the centermost points of the boiler where the temperature is significantly higher.
Some boilers tend to accumulate soot and fly ash deposits, insulating the thermocouples, and indicating lower temperature readings. Both circumstances are less than desirable as the inaccuracy of readings can lead to refractory and boiler tube damage and unnecessary energy consumption.
The Process Sensors "Infra-Boiler" remote sensing infrared detection system mounted on the exterior of a boiler measures the temperature of CO2 Gas or flames and solves both problems.
Additionally, this precision monitoring system will trigger a FEGT (furnace exit gas temperature) alarm when the highest temperature and maximum load condition for efficient operation is reached, preventing boiler waterwall, reheat and superheat tube failure.
The Process Sensors IR Temperature Measurement System reduces slagging and ash fusion by monitoring the maximum allowable temperature in the boiler superheat/reheat section. Flue gas temperatures in separate sections of boilers with division walls can be monitored to achieve temperature balance.
The Process Sensors "Infra-Boiler" System consists of a precision Metis MY45 or MY46 pyrometer, graphical PSCWin Software, with a heavy duty protective cooling jacket, removable sealed sapphire window, sight tube with strong ½-inch air purge inlet, flange, oil coalescent filter, and vortex cooler or optional air actuated ball valve.
Use of the highly reliable Metis MY45 or MY46 enables an operator to site through the cooler gases skirting the boiler perimeter and zero in on the measurement within the gas stream where temperatures are more representative of the true situation.
Process Sensor's "Infra-Boiler" Non-contact Temperature Measurement System features a selection of analog and digital output signals essential for the display, control and archiving of measured process temperatures. Analog outputs are switchable from 0 to 20mA and 4 to 20mA. Users may choose from two bi-directional digital communication interfaces, RS-232 or RS-485, with a maximum baud rate of 19.2k.
Currently, a prominent biomass power generation company in New England benefits from the use of eight "Infra-Boiler" systems engineered by the Process Sensors IR Division. Operators praise the PSC Systems over Type K thermocouples that drooped, melted or broke and S Types that collected ash on protective tubes, causing them to crack or break. The PSC Pyrometers have proven to lower maintenance and replacement costs and provide more reliable temperature measurement.
The PSCWin Software included with each system empowers the operators to set all the sensor parameters, and archive and transfer temperature data to programs such as Microsoft Excel for manipulation.