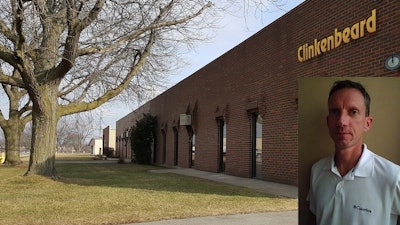 Clinkenbeard
Rockford, IL-based Clinkenbeard is a Model 2 Machine (M2M) Group company with an approach to rapid prototyping and production that's a little bit different than the popular 3D printing processes catching headlines.
The company, which has been around since 1966, creates complex cast and machined parts in a variety of metals and plastics, typically in low quantities – from prototypes to low-volume production.
In a recent interview with IEN, Ron Jr. (Reg) Gustafson, Clinkenbeard's vice president of business development discussed working on overwhelming projects, making sure designs are manufacturable, why experience matters, and what happens when technology outpaces OEMs.
IEN: What have been some of the more challenging projects that have come across your desk?
Reg: The aerospace industry supplies a steady stream of challenging geometry. We are reviewing a very complex 5-axis CNC hogout this morning which contains undercut geometry deep within bore diameters.
Luckily, we have manufacturing engineers who are very competent with CAD, CAM, and a variety of manufacturing methods. We were able to determine that this geometry is feasible to machine within one hour. Our manufacturing engineers simplify complex projects by breaking them into manageable operations which are more easily digested. As a whole the project is overwhelming, but broken into manageable bites we can all see the path to success.
Can you explain rapid sand casting? How does the process work?
Rapid sand castings can be achieved using a few strategies depending upon the complexity of geometry, quantity of castings, and material required date.
Clinkenbeard has streamlined the machined prototype foundry tooling process to produce rapid castings in very short order. We invest in software, training, and machines to produce the best quality product very quickly. We have been in the foundry tooling business since 1966, experience matters. We utilize additive sand processes when they are a good fit. There is some risk with additive sands, but we apply the right tools to reduce risk.
How does the technology differ from other additive manufacturing processes and 3D printing?
CNC machining foundry tooling is a subtractive process. Start with a solid piece of material and remove un-necessary material. Machining produces a surface finish which is superior to additive, without hand finishing.
Tooling is used to make sand molds/cores for each casting poured. Additive sand molds can be used in lieu of foundry tooling. Additive sand molds usually make sense for difficult geometries, which are not easily machined, when small quantities of castings are needed and geometry is likely to change.
So, when a new client comes to you, what stage of the design and development process are they typically in?
Customers usually come to Clinkenbeard in the early stages, when preliminary 3D models are taking shape and prints are not yet available. We like to get involved with the customer as early as possible.
We can provide valuable input to be sure the design is manufacturable. Customers can save large amounts of money and time by having their manufacturing partner review designs for manufacturability.
Many engineers and designers are removed from the manufacturing process these days. Collaboration with manufacturing experts can reduce cost and lead time by avoiding special tooling, special processes to create complex features, and reduce manufacturing operations and cycle time.
What is a typical project turnaround time for prototypes?
Typical turnaround for a small number of machined castings typically range from three-to-six weeks. Turnaround for CNC hogout from billet can range from one-to-four weeks. We try to keep excess capacity open for customers who wish to expedite to reduce the typical delivery.
What new rapid prototyping technologies have you seen recently that have the potential to disrupt the market?
Additive metal sintering is not new, but evolving quickly and disrupting the market. Many OEMs now have specs and processes in place to utilize this technology in development and production phases.
Aerospace OEMs are making production parts to supplement traditional production processes like investment casting, as the production process is developed and ramped. I see this happening on a regular basis, especially with exotic alloys like Inconel and Cobalt Chrome.
Where are the gaps in the industry? Are industrial engineers underserved because the "technology just isn't there yet?"
Technology seems to be outpacing many OEMs standards and design for manufacturing processes. With the exception of early adopters, many engineers/designers are still constrained by traditional manufacturing processes, because they have not explored new manufacturing techniques which eliminate traditional constraints.
Any plans to expand or bring more capabilities in house?
We see value in early design collaboration. We have added, and plan to add more, manufacturing engineering resources to serve customer demand. We have DMLS capability within the M2M Group, we hope to add additive capability to the Clinkenbeard division in the near future.
From a state of the industry perspective, what keeps you up at night?
We strive to provide niche services; we don't want to be just another tooling or prototyping shop. Staying ahead of the technology and innovation curves to maintain niche services is the challenge.