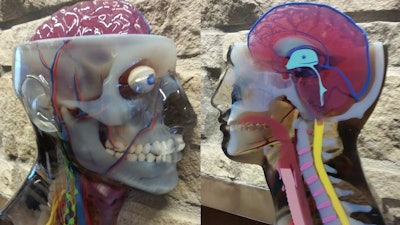 David Mantey
The ever-increasing pace of change in the product design and development space will continue to demand more precise and sophisticated prototyping processes, all while becoming easier to use. So was the narrative at a Stratasys press event held last week, Friday, April 1, at company partner (and beta tester) OtterBox's headquarters in Fort Collins, CO. The news was no joke.
People demand simplicity when it comes to 3D printing; users want to push a button and have a photo-realistic part. Now, with Stratasys's launch of the new J750 3D printer, the industry appears to be closer to that reality than ever before.
IEN Now: 3D Printer May Disrupt Entire Design Process
At the event, I was able to touch, feel, and hold a few samples built on a J750 (view in the gallery above), and while they may not be exactly photo-realistic, they are some of the most impressive 3D-printed parts that I have ever seen.
The new 3D printer has a resolution down to 14 microns (0.00055") at 1,800 DPI, and is capable of printing more than 360,000 color combinations. It prints up to six base materials simultaneously, as well as one support material, in a 490 x 390 x 200 mm (19.3" x 15.35" x 7.9") build envelope. The printer is also supported by the company's PolyJet Studio, which provides a full-color print preview, and accepts STL and VRML files.
"[The J750] has disrupted the entire process in product design," said Joshua Claman, chief business officer at Stratasys. "One of the most exciting things this printer brings is the compression of the product development cycle, with fit and finish so realistic that I can get the order before production." According to Claman, the new printer takes much of the risk out of a product introduction, and fundamentally changes how users go to market.
All of these features combine to trim a lot of fat out of multiple processes or, in corporate speak, deliver unprecedented cost/resource efficiency. As Claman put it, the new printer allows users to "see the consequences of their design decisions in vivid detail."
According to Roger Kelesoglu, Stratasys's director of sales enablement, the J750 meets the prototyping market needs of designers, engineers, and marketers.
Designers require concept models to communicate and improve designs, and work through multiple iterations of each design for review; engineering departments need realistic prototypes for manufacturing instructions for form, fit, and function; and marketing needs realistic parts that look like the first article, and prototypes that help the customer understand the final product before it's even in production.
According to Kelesoglu, one of the biggest challenges to 3D printer adoption is that designers and engineers are often hamstrung by first designing a part for the 3D printer. Designs were limited to the machine's capabilities when it came to part geometry, resolution, materials, and color.
"We needed to eliminate the need to invest in and maintain several technologies to achieve a final part, including support systems, space, time, and material inventory," Kelesoglu said. The support technologies forced companies to incur costly post-production expenses, including painting, sanding, machining, and over-molding.
"I couldn't quantify total cost savings, but it is a large savings all around," added Brycen Smith, engineer tech supervisor at OtterBox. OtterBox not only hosted the press event, but the company also partnered with Stratasys to beta test the J750. According to Smith, OtterBox had the printer installed in its PIT (Prototype, innovate, and test) Lab since late 2015.
"We use it from ideation through creation of a product, and throughout the entire design process," Smith added. According to Smith, OtterBox began printing parts on day one, and since averaged 750 to 1,000 parts per week, at an average cost of $11 per cubic inch of material.
The J750 is not only within OtterBox's manufacturing tolerances for color, but Smith said that it also took post-finishing work out of the process.
According to Kelesoglu, that was the intention. "In one box, we're enabling people to reduce the number of steps that they take to get a part to photo realism," he said. "We replace several, single-capability machines and processes with one versatile system … This is one box that can impact the entire design process."
The J750 could potentially disrupt or entirely remove the need for:
Color printing/painting
Engineering-grade plastic printing
Fine detail/high-resolution printing
Urethane/rubber molding
CNC
Sanding and finishing
Ease of Use
"We want to take the thinking out of 3D printing," Kelesoglu said. "We want it to work like Photoshop … It doesn't do you much good to have a good hardware platform if it takes you a Ph.D. to operate it."
According to the company, the updated PolyJet Studio software offers a new user interface that makes it easy to choose materials, optimize the build, and manage print queues. It also improves shell-based color assignment for STL and shell-based VRML files; and gives users the ability to add color textures and gradients, which could save time during build preparation. It is also easy to transfer work across multiple projects for color consistency when it comes to brand identity and design intent.
The J750 also includes next-generation print heads that print faster (two times that of previous printers). The printer has four times the number of jets as previous printers (total number undisclosed), and a smaller drop size accounts for the improved resolution and fidelity.
The six material channels print the company's existing family of resins, including digital materials, rubber, and transparent materials with no material changeover.
"We gave [the J750] to a bunch of sales people who don't know how to do very much of anything, and they were able to use it," Kelesoglu jokingly added.
Stratasys would not disclose price, but Kelesoglu said it was at a premium level. The printer also includes a three-year comprehensive warranty that includes labor, as well as up to eight print heads per year. The warranty is included in the undisclosed premium price.
The J750 is now available to order.
Now it's up to designers and engineers to push the printer's capabilities, something Kelesoglu is eagerly anticipating. "We'll see what the design world comes up with in the next six months to a year," he added. Inspired by the many printed parts the company had on display, I, too, am eager to see what the world can create.