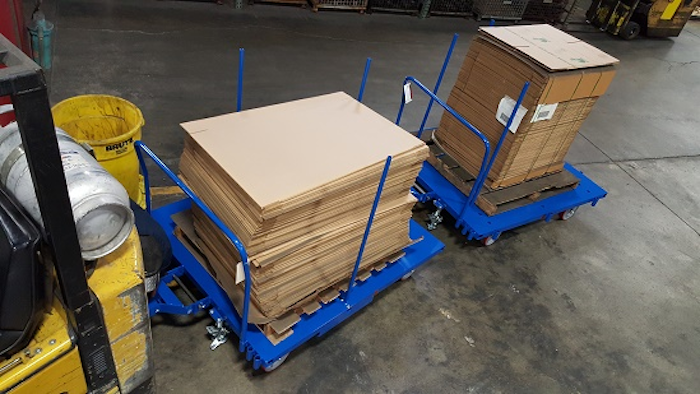 Roll-A-Way Conveyors, Inc. (Waukegan, IL) announces the addition of a custom designed fifth wheel steer cart that allows for straight inline towing capability of multiple carts.
The tow cart with fifth wheel allows users the ability to maneuver multiple carts within tight spaces or narrow warehouse aisles. Dual steer tow carts offer accurate tracking trailing characteristics with optimal precision maneuverability of carts, greatly increasing productivity for warehouse pickers.
The fifth wheel steer carts allow warehouse pickers higher productivity, with the ability to pick and load multiple orders in one location, as cart capacity is 5x larger with the five cart configuration as opposed to the single cart alone.
Tow carts are available in multiple height and deck sizes and are available in load capacities of 1,000 lbs. or more, while custom deck sizes are available upon request to meet specific applications.
Tow carts are powder coated and come in colors laguna blue or battleship gray.
www.roll-away.com; 847-336-5033