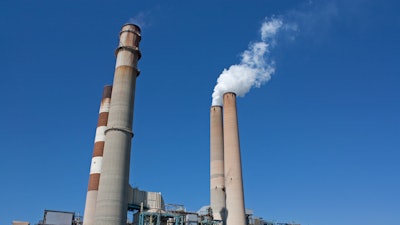 Wikipedia
FARGO, N.D. (AP) — Officials with a North Dakota electric power cooperative said Friday that the group's Stanton power plant has become too costly to operate and will shut down within the next 12 months.
Great River Energy officials said low prices in the regional energy market has already forced the 50-year-old station to operate on a limited basis. The Mercer County plant has the capacity to burn 800,000 tons of coal a year at full load.
"After careful consideration of several alternatives, it became clear that retiring the plant was in the best interest of our member cooperatives," David Saggau, Great River Energy president and CEO, said in a statement.
The plant has 65 employees. Saggau said the cooperative is working to "minimize impacts" on employees and the community. He said there would be other opportunities for jobs at other company plants.
Great River Energy supplies power to 28 rural utility cooperatives in Minnesota and Wisconsin. It continues to operate the Coal Creek station, northeast of Stanton, and the Spiritwood station, near Jamestown. Great River is also the majority owner of Midwest AgEnergy Group, which owns and operates two ethanol plants in North Dakota.
"We remain a committed partner in North Dakota's energy industry," Saggau said.
Michelle Rosier, North Dakota spokeswoman for the Sierra Club, called the decision to retire the plant "an enormous victory for clean air and energy security in our communities."
The Stanton plant, which began generating power in 1966, stopped burning North Dakota lignite coal more than a decade ago. Since then it has brought in subbituminous coal from the Spring Creek coal mine in southeastern Montana. An official with Cloud Peak Energy, which operates the Spring Creek Mine, did not immediately return a phone message Friday seeking comment.
Jason Bohrer, president and CEO of the Lignite Energy Council in Bismarck, said that even though the plant's closing won't directly affect the state's coal outlook, it's a reflection of the challenging environment for the industry.
"It's kind of in a precarious place in the energy mix," Bohrer said. "Despite the fact that it's not lignite coal, it's a reminder that the threats to the coal industry are real."