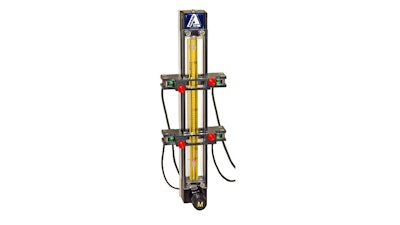 Enhanced Optical Sensor Switches from Aalborg Instruments (Orangeburg, NY) provides a non-invasive way to detect high or low flow rates that can damage your equipment and processes. Easy to operate, the user simply powers up, slides and sets the carrier with the set of self-contained miniature photoelectric sensors to monitor the desired level of flow.
Excellent for OEM applications, the enhanced sensors, consisting of transmitter and receiver, will signal a cut-off valve, alarm, or other device (not included) when the float passes above or below the desired setting.
Features include:
Enhanced Sensor Switches with one or two rigid carriers.

Can be used in conjunction with a customer-supplied control relay to power alternate equipment or monitoring devices.

Works with all float materials including transparent red-colored floats made from sapphire due to the sensors' enhanced design consisting of receiver and transmitter.

Response time: 0.5 MS.
Sensors are compactly designed and easy to operate.
www.aalborg.com; 800-866-3837