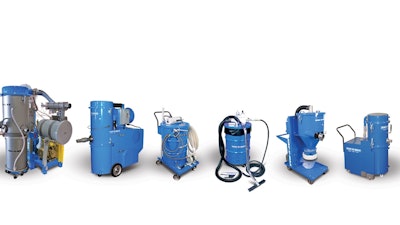 VAC-U-MAX (Belleville, NJ) offers the latest advances in Industrial Vacuum Cleaning Systems, with unique application for the Precast industry. In addition to providing health and compliance benefits, high-powered HEPA vacuums reach concrete form areas that have not been cleaned in ages. Deep-cleaning of forms reveals smooth surfaces that enhance the consumer side of precast products and ensures a tight fit for mating surfaces. Using a HEPA vacuum system also eliminates the "false cleaning" of compressed air blow-off. VAC-U-MAX industrial vacuum cleaning product range includes electric and air-powered, non-electric systems that operate on the Venturi Principal, creating vacuum suction without motors or moving parts - an "Intrinsically Safe System" for applications requiring clean-up of abrasive and dusty cement particles. Highlighted products include:
The VAC-U-MAX MDL1020 Continuous-Duty Industrial Vacuum Cleaner, featuring a powerful positive displacement pump designed specifically for high volume recovery of up to 5 tons of Dry Cement per hour. Versatility and portability of the MDL1020 allows ease-of-use anywhere in a cement plant, with easy maneuvering by a single operator.
The VAC-U-MAX MDL500 Industrial Vacuum Cleaner, designed to reduce operator exposure to even the finest powders and dusts. This continuous-duty vacuum is equipped with a continuous-bagging system that eliminates manual dumping of drums or collection containers. The MDL500 contains a unique filter cleaning system that eliminates the need for compressed-air and solenoid controls. The MDL500 is equipped with a 50-square foot PTFE Primary Filter, and a standard HEPA Secondary Filter.
The VAC-U-MAX MDL55DAF Industrial Vacuum Cleaner, designed for any 16 gauge, 55-gallon carbon steel drum, incorporating a Twin-Venturi System and powerful HEPA Filtration of even the finest dusts. The unit features an extra-large PTFE coated primary dust filter rated 99.9% efficient at 1 micron, with absolute HEPA filter cartridge rated at 99.97% efficient at 0.3 micron.
www.vac-u-max.com/silica; 800-VAC-U-MAX