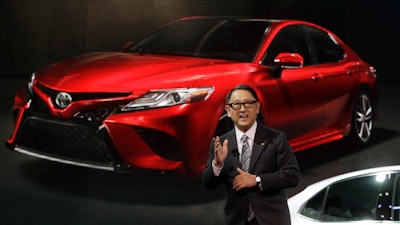 AP Photo/Carlos Osorio
TOKYO (AP) — Toyota Motor Corp. said Monday that its profit fell 23 percent in the October-December quarter from a year earlier as its sales fell and a stronger yen squeezed its overseas earnings.
The company, which recently relinquished the crown of world's biggest automaker to German rival Volkswagen, reported its fiscal third quarter profit was 486.5 billion yen ($4.3 billion), down from 627.9 billion yen in 2015. Quarterly sales of the maker of the Prius hybrid, Camry sedan and Lexus luxury cars slipped 3.5 percent to 7.1 trillion yen ($63 billion).
A strong yen reduces the foreign-earned income of Japanese exporters when translated into yen. In its report for October-December, Toyota used an exchange rate of 109 yen to the dollar, compared with a rate of 121 yen a year earlier. During the quarter, the yen actually weakened against the dollar, which was trading at 102 yen in early September but ended the year at about 117 yen.
The change from 2015-2016 cost the company $1.8 billion in quarterly operating profit, Toyota said. It raised its full year profit forecast through March 2017 to $15 billion, noting it expects more favorable exchange rates.
The forecast is better than its earlier projection of 1.6 trillion yen ($14 billion) profit, but below the 2.3 trillion yen earned in the previous fiscal year.
Earlier in the day, Toyota said it would work with Suzuki Motor Corp., which specializes in tiny cars, on ecological, safety and information technology — fast growing areas in the industry. The Japanese automakers announced in October that they would study a partnership.
Volkswagen is likely to claim the title of world's biggest automaker for the first time, as General Motors Co. not expected to beat Volkswagen's worldwide sales of 10.31 million vehicles in 2016. Toyota sold 10.175 million vehicles.
Detroit-based General Motors reports its sales later this week. Jim Cain, spokesman for the U.S. automaker, has said he doesn't think GM will hit 10.3 million.